Tom Purdie, Water Operations Team Leader
16 April 2020
Scottish Water's vital role is to look after your water supply and remove and clean the water you use. E
mployees throughout the organisation are performing key roles working round the clock to deliver our services to you.
Some will be working very visibly in your area. Others will be doing jobs which mean although they are vital to ensuring the quality of your water and protecting the environment, you won't see them out and about.
To protect both public health and our employees we are following government guidelines on social distancing.
Here, we turn the spotlight on one of the key roles helping to maintain networks and keep the water flowing: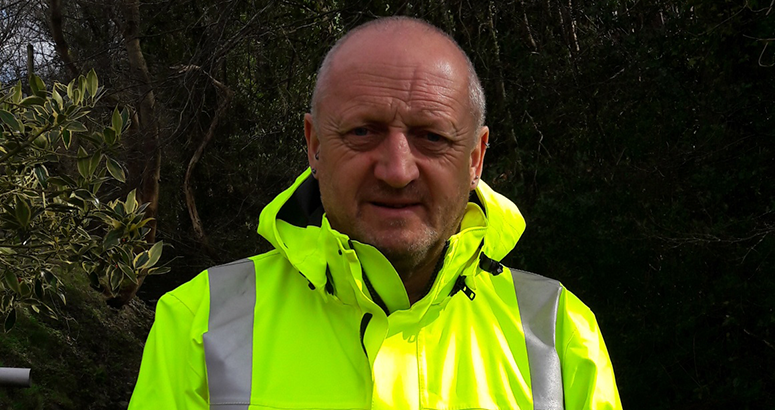 Meet Tom Purdie
Tom and his team play a vital role in ensuring customers continue to receive fresh, clean drinking water.
Tom Purdie, 60, has been a Water Operations Team Leader for Scottish Water in the Tayside and Fife area for the past 14 years – and has worked for Scottish Water and its predecessors for the past 40 years.

Tom stepped down as team leader on 1 April to begin a phased retirement process over the next three years but is continuing to provide crucial support to the frontline team, especially with the challenges presented by the Covid-19 outbreak.

Tom says: "Being an operational team leader means that I am responsible for keeping the flow of water going within our infrastructure, via many kilometres of pipelines of all shapes and sizes, storage tanks and pumping stations. When you open your tap at night, it's our job to make sure that the water flows.

"At the moment, this is even more important than normal as we go on battling with Covid-19. It's imperative that we do everything possible to give our customers an uninterrupted supply of fresh and clear water.

"Because people are at home, the demand for the product that we supply – clear and wholesome water – is under even more pressure and our networks are having to work harder in some areas as a result.

"My team are totally committed to what they do and I have complete trust in them. They understand that they need to be able to keep going. There are certain things that have to be done, no matter what, like checking pumping stations and ensuring that the water is of the right quality all the way through the network.

"They are having to go out and still do all they can to protect their own health, while most other people are being told to stay safe at home. Both the water services and the waste water services that Scottish Water provides are even more important at this moment."

He added: "This is what Scottish Water is all about, it's our core purpose, but until you come to a situation like this I'm not sure people always appreciate what it takes. We're a 24-hour essential service – and it takes people working out there at all hours of the day and night to make that possible.

"I feel that Scottish Water has been very quick to understand and respond to this issue. Our first objective is to keep our team safe. It's important that we've really cut down the amount of stuff that we have to get involved in.

"We have to get our job done, but we have to make the right choices about how we do that – both now and in the time ahead."