99 Year Old Woman Praises Water Workers
27 April 2020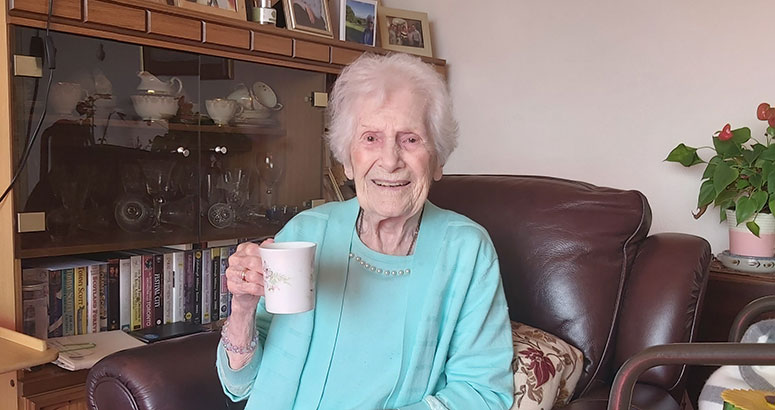 Margaret Hutcheson praised the NSOs
Maragaret, who turns 100 in June, said that Kenny and Calum "could not have been more helpful"
A 99-year-old woman has told how she will never take her water for granted again – after two Scottish Water employees went the extra mile to help her out.
Margaret Hutcheson told how she had "only a trickle" of water coming from the taps in her Dunfermline home.
Knowing the current advice about hand washing often as one of the best measures to protect yourself against Coronavirus she said she "was beyond worried".
Her carer Donna Johnston contacted Scottish Water about the issue and within 24 hours two Water Network Service Operators (NSOs) in Field Response, Kenny Grant and Calum Keeley, visited Margaret's home.
They knew a another utility had been working in the area earlier in April and this had resulted in a burst on the drinking water network which had since been repaired
Given current lockdown conditions Scottish Water staff are only entering customers' properties in an emergency. Given Margaret's age and as she was self-isolating and in need of water for washing and drinking the pair were sent to investigate. Both Kenny and Calum had to wear upgraded PPE (personal protective equipment) which includes disposable overalls, gloves, masks and protective glasses.
Within minutes they found what was causing the issue and spent 3 hours carrying out repairs – which included Calum nipping back to his home in Inverkeithing to get extra parts from his garage.
The pair cleaned out the heater tank and cold water tank in Margaret's home, which had become clogged with grit filled after the previous burst. They also replaced a ballcock in her water tank – floats which rise when water levels rise and once at a pre-set level it forces the lever to close the valve and shut off the water flow.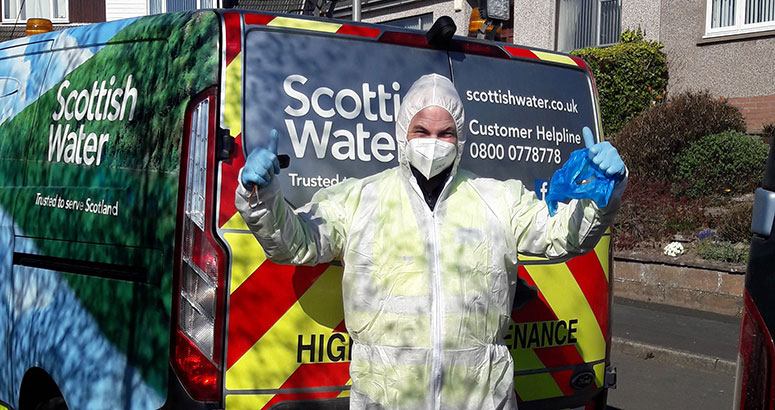 Calum from Water Operations
Calum was a heating and plumbing engineer before he joined Scottish Water
Kenny, who has worked in the water industry for 29 years, said: "We are not going to customers' houses unless it is an emergency which this was an exceptional case.
"When we got there we had to ask Margaret and Donna to go into the back room to ensure social distancing and they stayed there the whole time.
"Calum was a heating and plumbing engineer before he joined Scottish Water and it was a stroke of luck he had a spare ballcock at home, which he went to collect, and also a spare set of stainless steel taps in his van which he fitted in Margaret's bathroom to make it easier for her to put her water on and off.
"Calum and I also had to social distance between each other so I would lay out tools for him and carry things for him while he sorted everything out, all the time shouting through to Margaret what we were doing and why.
"Margaret was so worried about having problems with the internal water supply at her home, which she obviously needs for washing and drinking. We would not normally do these sort of repairs ourselves, we would get a plumber to carry it out or the homeowner would need to get their own, this can take a few days too. But these are unique times so we knew we had to do all we could to help Margaret out.
"She could not have been more appreciative. We are young and fit and were just doing our jobs and we were delighted to be able to help such a lovely lady."
Former schoolteacher Margaret, who will turn 100 in June, said: "Kenny and Calum could not have been more helpful. I was worried not having enough water. When they said they could fix it I was over the moon. And now I appreciate my water more than ever and know how precious it is."
Donna, who has cared for Margaret for the last two years, said: "Margaret is marvellous and does so much herself. She is a very proud lady and does her dishes and showers herself. She was in a real panic about not getting enough, or at times any, water from her taps.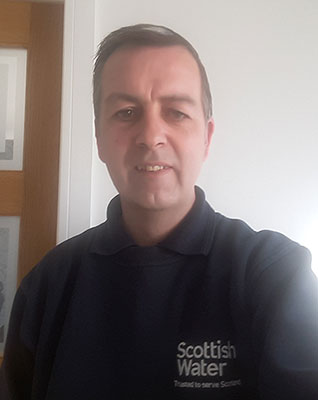 "We knew there had been workmen outside a few weeks earlier and that it might be linked to that but when it never got better we rang Scottish Water. Water is so important now more than ever as we all need to keep washing our hands so we knew it needed sorted. We knew it would be virtually impossible to get a plumber due to the coronavirus meaning people had stopped or restricted their work.
"After a few days of very little water we rang Scottish Water and they came very quickly. Kenny and Calum were just terrific and went out of their way to help and had smiles on their faces the whole time.
"When they were checking the water in Margaret's bathroom they noticed her sink taps were very old and difficult to turn off and on. Calum went to his van and got new ones and fitted them, which is above and beyond what was needed. And Margaret is delighted and says they are much easier to use.
"We know we were lucky Kenny and Calum came along – there is lots of talk about heroes just now and they were ours. I said to them if I win the lottery I will track them down and give them a thank you gift."
Kenny (pictured here) and Calum – who has worked at Scottish Water for three years - both work as part of the Water Network team in Tay which covers Angus, Fife and Perth.