Case Study - Steven Boon, Waste Water Operations Manager
30 April 2020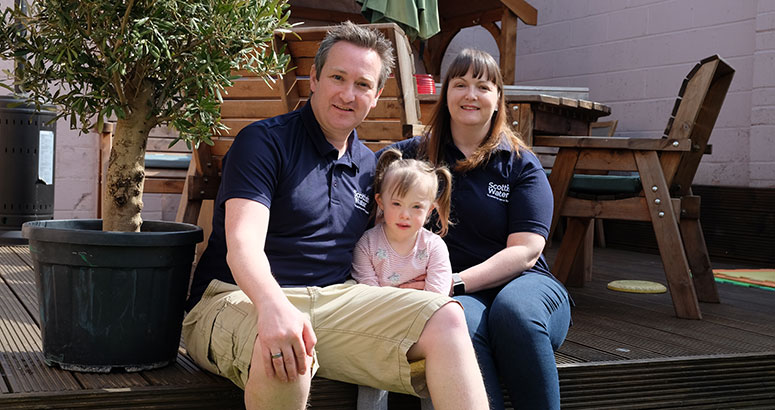 The Boon Family
Steven and Alyson Boon with daughter Layla
Scottish Water's vital role remains looking after customers' water and wastewater services and its staff are performing key roles working round the clock to deliver this during the current Covid-19 pandemic.
Some are working very visibly outdoors while others are doing jobs at treatment sites or at home. Waste Water Operations Manager Steven Boon is one of many people at the utility playing a key role helping to maintain networks and keep our treatment process operating.
He and his 100-strong team play a vital role in ensuring Scottish Water's sewer network and treatment assets are running as they should be in the South of the country - a vast area including the Borders, Edinburgh and the Lothians to Dumfries & Galloway and Lanarkshire. This includes attending operational sites to undertake essential tasks and repairing equipment that may break down – and means most of his frontline staff continue to work out and about across the country operating, maintaining and repairing assets.
Steven has worked for Scottish Water and its predecessors for the past 22 years after starting out on a graduate scheme – and says the current situation has brought "unique and varied" challenges for his team.
The 43-year-old said: "Without doubt the biggest change is dealing with increased loads at our sites. Obviously many, many more people are at home now when previously they were out at work often in bigger towns and cities where there is the infrastructure to deal with heavier flows of waste water."
"Since lockdown we have noticed our smaller works are dealing with bigger loads over a more prolonged period. This is particularly the case in smaller commuter towns outwith cities where lots of people live but where they do not normally work.
"Prior to this lockdown, we knew the busiest times in terms of waste water were in the morning after customers woke up and then when they returned home and before bed – now it is consistent throughout the day."
The change has brought about new challenges for his team. These include them having to tanker more waste away from overloaded sites, having to desludge (removing sediments by draining and cleaning tanks) and deal with more flows to ensure assets are not overrun, which may cause environmental impacts or flooding. All of this while working with a diminished workforce due to self-isolation or shielding."
Steven says health and safety is always important and even more so now and that waste water workers have been given updated PPE to reduce any risk.
Steven said: "A unique consequence of this incident and the potential for customers to put "unflushables" down their toilets is the volume of issues that could cause. During normal working our Sewer Response teams deal with around 120 blockages across Scotland every day – we are very much at increased risk of more at the moment. The impact of these to the environment and customers themselves can be huge in terms of bursts and flooding.
"We would urge people to be more mindful than ever of what they put down loos and drains – only the 3Ps please (pee, poo and toilet paper)."
The father-of-one says his team is already preparing for a rise in blockages when it next rains following a prolonged period of dry weather.
He said: "When we get the first batch of rain there will be a first flush – this causes the loading to move through the network and can cause real problems when things that should not be down there are pushed along and cause blockages in both the pipes and in pumps which moves wastewater to our treatment works. Things like wet wipes and sanitary products are our biggest problem. So I would ask people to be mindful of this and really, really think about what they flush.
"As always we strive to look after our staff's health and safety so the less issues they have to deal with on our assets, the better. They are outside doing more than ever before. Not only are they dealing with much bigger loads, they are having to check our pumping stations and oversee our waste water treatment works to maintain our essential service. Scottish Water has stopped contractors coming onto our sites to protect our key staff by social distancing and much of the work they did is now having to be taken on by my team. Even things like mowing the grass to keep sites safe for us to operate takes up valuable time. On sites where more than one person works, they are having to work apart and keep everything sanitised round the clock."
Steven said his team were doing "a phenomenal job" making sure our customers are still able to wash their hands and use their facilities without having to worry. He expressed how grateful he was that they are leaving their families at home to go out and carry out vital work to protect our customers.
He said: "It continues to be long working days – but I am aware that I am doing so from home, where I can help look after my young daughter. Members of my team are out on the frontline and away from their loved ones. The work they do is part of what Scottish Water is all about, it's our core purpose, but until you come to a situation like this I'm not sure people always appreciate what it takes to provide what is often seen as an expected hygiene necessity at home. We're a 24-hour essential service – and it takes people working out there at all hours of the day and night to make that possible.
"I know some of my team are doing a lot of juggling. Some are heading out to work in the morning, then going home to help care for children or others in their family and then heading back out to finish their work in the evenings.
"Everyone is continuing to look after all the assets in different ways during these exceptional and challenging circumstances. Like many other businesses operating in these pretty scary times, the fact people are managing to get their jobs done is fantastic."
Steven says he is lucky his wife, Alyson, 45, understands how he needs to be on call 24/7 – as she is in the same situation. She also works for Scottish Water, as a Team Manager in the Electrical and Mechanical team which supports water and wastewater frontline staff to repair and maintain all essential equipment needed to keep our assets operating. The couple, who live in East Calder, share the care and home schooling of their five-year old daughter, Layla.
Steven said: "Like many people we are working full time from home with a young one. We call ourselves a Scottish Water family! Layla has some extra needs as she has Down's Syndrome and both Alyson and I feel bad that at the moment we cannot give her 100 per cent of our time – but when we can it makes it all the more special. We know we are very lucky to be home with her, but being very busy is a very small price to pay for playing our part during this pandemic."