Stay Safe Around Watercourses This Summer
05 June 2020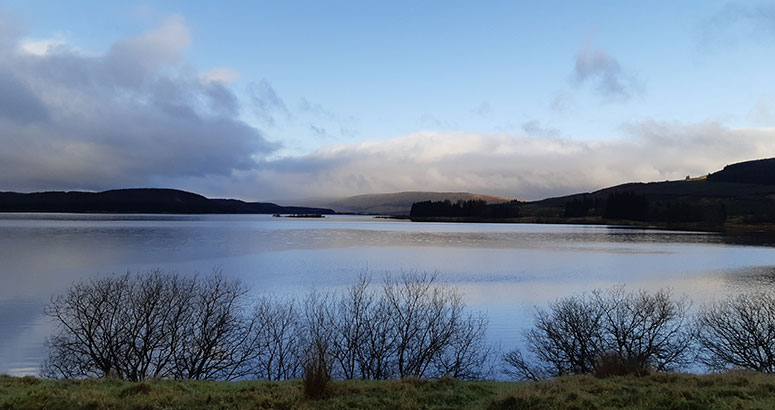 Reservoir Safety Video
Our Chief Operating Officer Peter Farrer talks about the importance of staying safe around watercourses
Scottish Water is urging people to stay safe, behave responsibly and not take risks around reservoirs, rivers and lochs this summer.
With schools closed due to the Covid-19 pandemic and a lifting of some restrictions on movement by the Scottish Government, the utility is calling on people to take particular care around watercourses during any further spells of warm weather.
The latest figures from the National Water Safety Forum show that, in 2019, a total of 214 people lost their lives to unintentional drowning in the UK, of which 37 were in Scotland.
Peter Farrer, Scottish Water's chief operating officer, said: "While everyone should enjoy any further good weather we have and take pleasure around the country's beautiful lochs, rivers and reservoirs while following the Scottish Government's Covid-19 guidelines, it's absolutely vital that they stay safe at all times and behave responsibly.
"Safety is a serious issue as, while the water may look harmless, there are many hidden dangers. We need to ensure everyone is aware of these hazards. We are reminding parents to keep their children safe and asking adults to act responsibly around watercourses."
Deep, cold water is a particular danger at reservoirs, which are working parts of Scottish Water's infrastructure
Dams, steep banks, spillways (overflows) and underwater pipework can also present real hazards.
The majority of Scottish Water's reservoirs are situated in remote locations, meaning there is a lack of immediate assistance and mobile phone reception can be poor.
In the interests of public safety, we do not encourage swimming in our reservoirs.
Car parks at reservoirs have been closed due to Covid-19 restrictions, but these are being re-opened as restrictions are eased.
Scottish Water is continuing with its social media campaign #ReservoirSafety and again has a video available to highlight the importance of reservoir safety (see above).
Scottish Water's advice is also targeted at pet owners. One of the biggest concerns with dog owners is when their pet dives into water, chasing a ball or stick. The pet more often survives such incidents, but the owners, who have attempted to save them, sometimes don't. Dogs need to be kept on a lead if they are being walked near reservoirs and other bodies of open water.
The Royal Life Saving Society UK (RLSS UK), the UK's drowning prevention charity, is running its National Drowning Prevention Week from June 12-19 and is backing Scottish Water's call.
The aim of its campaign is to help everybody across the UK and Ireland to #BeALifesaver and take charge of their own destiny to enjoy the water, safely and the RLSS is encouraging families to go to their website www.rlss.org.uk to access free online lessons.
Lee Heard, Charity Director for the Royal Life Saving Society UK (RLSS UK), said: "Public safety this summer is certainly a concern for us. The euphoria of lifted lockdown restrictions, the recent warm weather and a stretch on rescue and emergency services all equates to a potential spike in tragic loss through drowning. It is on us all to do the right thing to protect ourselves and our emergency services.
"Our message this year is for individuals to take responsibility of their own safety around the water, apply common sense, be your family and friend's lifeguard, and learn what to do in an emergency."
Also supporting Scottish Water's call, Carlene McAvoy, Scotland community safety development manager at the Royal Society for the Prevention of Accidents (RoSPA), said: "In preparation for being able to carry out exercise or any activity in or around water, now is the time to plan ahead and consider the possible dangers.
"Even in warmer weather, children and adults alike should be aware of the dangers of cold water shock and how it can still lead to drowning in the summer months."
The Scottish Fire and Rescue Service (SFRS) Deputy Assistant Chief Officer Alasdair Perry, said: "The water might look inviting, especially on a hot day, but the reality is very different.
"Open water can be a cold and hostile environment even in summer because of the climate in Scotland.
"Firefighters within our water rescue units around the country are highly trained individuals who can assist persons in difficulty. It takes dedication and hard work to carry out these types of rescues, but even for our teams the water can be a dangerous place.
"So to prevent tragedies happening the best advice we can give to the public is to stay out of the water."
Scottish Water is a partner involved in the Go Safe Scotland online education resource www.gosafescotland.com , developed to provide young people with key safety messages, one of which is water safety.
If Scottish Water customers would like more information they can contact Scottish Water's Customer Helpline on 0800 0778778 or www.scottishwater.co.uk/takecare.