Scottish Water Call Centre Coach's 'New Normal'
12 June 2020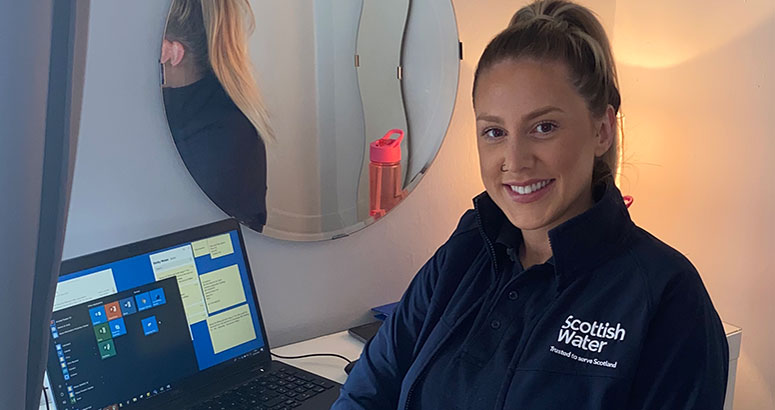 Denni Kinnear - Team Coach
Denni's working life has "changed beyond all recognition"
Water is vital in all our homes – so if we ever have any issues with our supply it is crucial we get things sorted as quickly as possible.
For most people their first contact is made to Scottish Water's Customer Engagement Centre. Until the Covid-19 pandemic it operated 24/7 from a custom-built office in Edinburgh's Fairmilehead where call advisers worked alongside team coaches who helped advise them and kept them updated on any service issues such as bursts and planned interruptions to water supplies. They provide a vital role working alongside Risk Technicians who plan jobs of network operators to do and analyse the urgency of jobs and dispatch these to appropriate engineers to resolve as quickly as possible.
The usually bustling office is now empty with all the centre's 130 staff now working from home.
Team coach Denni Kinnear has told how her working life has "changed beyond all recognition". The 24-year-old now works from a laptop on the dressing table in the bedroom of her Edinburgh home. It is there where she now has to supports her team of call handlers who deal with an average 1000 calls a day from customers across Scotland.
The team also updates Scottish Waters social media channels on any incidents and replies to customer queries online. It also liaises with waste and drinking water response teams and alerts them to any incidents.
She said: "It was very odd going from working in a big, noisy, bright and busy office to sitting alone at my dressing table. As time has gone on it has become my new normal – but is still feels pretty odd.
"We are still handling an average 20,000 customer contacts a month and hitting our targets in the way we maintain essential service for our customers who are understandably more anxious about any loss of supply when there is such a need for regular handwashing."
Denni told how Scottish Water had started looking at ways for all the staff in its Customer Engagement Centre to work remotely before the official lockdown was announced. Within days all staff had been given laptops with all the technology needed for them to work from their homes without any disruption to the vital service they provided.
"The main difference is that now often I find myself being in front of the screen for hours at a time. All my meetings are now via Skype instead of getting up and moving around to different parts of a big office and interacting with each other.
"To manage this, I think is it really important to take breaks and go outside for a wee bit to get fresh air. My mum also works for Scottish Water, although we are in different departments and sometimes will work together in the family dining area so and I am very grateful for the company. The rest of the family – her Dad and her younger brother - have gone back to work."
"The operational shifts are intense to do from home. These shifts are when I am responsible for watching what contacts are coming into the CEC and identify any patterns such as a group of no water or pressure calls from one postal area which could indicate there could be a potential burst water main. Each event would be updated on the 'Service Updates' on the website and our social media channels throughout the day until the water was restored. These shifts last eight hours.
"When we are normally working in the office we know very quickly if a major issue is going on as we can see and hear things but at home I have to keep monitoring the two different screens to make sure I pick any incidents up quickly and get our people the right information to answer any customer enquiries.
"At the start I found supporting the call advisers that I manage remotely quite challenging. Every day between 7am and 10pm there are generally at least four coaches supporting around 40 advisers who take calls on everything from no or intermittent water supply, low water pressure, discoloured water to mains bursts as well as sewer-related calls.
"No two days are the same and you need to be on the ball and know where to look and get information quickly to help customers out."
"We have all had to adapt to working from home and have set up things like Skype group chats among coaches for different types of questions. There are also group which gives an opportunity for conversations between the office just like we usually would – asking how each other is and providing moral support.
Denni said the team has also set up fun activities to do to keep them challenged and to look out for staff's mental health and well-being – an issue which Scottish Waters takes seriously with every team having at least one champion in this field.
"We have team quizzes and competitions such as 'rate my lunch' and try to get everyone involved to keep people in touch and keep up morale. It is much harder to see when someone is worried or down when you are not face to face. But another thing that has happened during lockdown is we are getting a lot more calls thanking us for the work Scottish Water staff are doing during this pandemic to help customers. That is a great morale boost as that is why my team is there."
Denni started working as a Customer Adviser in the evenings while still at school. She went full time after finishing school and after five years became a Team Coach, a role she has been in for two years now.
She said: "I really enjoy my job at Scottish Water, it's fast paced and every day is different. In my role I need to think quickly and always be sensitive to peoples' needs. Yes it has been hard changing to working from home but to know we are helping so many of our customers is very rewarding.
"Like everyone else now having to work from home there are challenges but I like to see the positives too, for me they not having to commute to work, a more flexible schedule and that there's no excuse not to do a home workout."