BLOG: Pride in Being the 'A' in LGBT+A - Andrew Walker
19 June 2020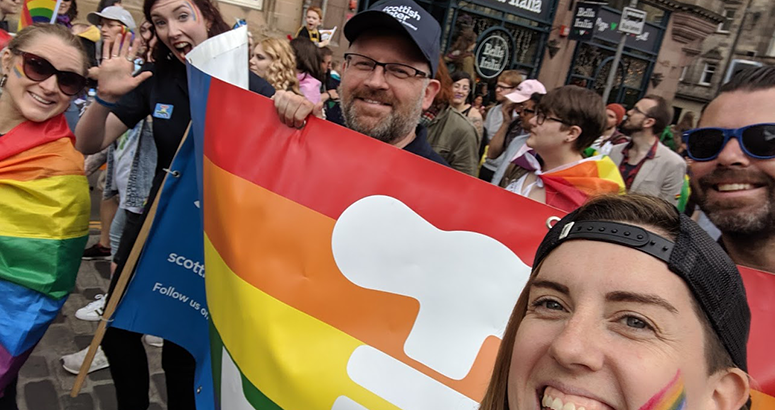 March of Pride
Andrew joins colleagues and members of Scottish Water's LGBT+A Belong network at Pride Edinburgh in 2019.
"There have been significant changes for the better - more needs to be done."

Andrew Walker
Head of Communications, Scottish Water
It's been a year since I took part in my first Pride march. This Saturday, I would have joined thousands of
others to again make our way through the streets of Edinburgh in a colourful expression of human
rights, freedom and friendship.

Walking with work colleagues from Holyrood to George Square was an amazing experience. Getting to
meet so many people during the day and see just how important it is to be able to be part of a vibrant
community in Scotland was something I'll never forget.

The group I walked with are members of Scottish Water's LGBT+A Belong network. From across all
different parts of this extraordinary organisation, employees come together to support each other and
work to ensure everyone can be themselves at work and contribute equally to the service we deliver.

Why does Scottish Water have a Belong group dedicated to LGBT and Allies? Well, it's one of seven
groups focused on ensuring diversity and inclusion.

As a public body, we have a legal responsibility to build equality into our service – who we are, what we do and how we do it. For a community which has experienced decades of discrimination, it's also the right thing to do.

Much has changed, although discrimination and prejudice – racism particularly through the protests
galvanised globally under Black Lives Matters – dominates headlines daily.

The utility sector in the UK is one which is working hard to increase the diversity of its workforce.
The LGBT+A group mirrors other Belong forums which support women in Scottish Water, employees
from multi-cultural communities, employees who are former and serving armed forces members,
people with disability and carers.

I've been involved in supporting diversity and inclusion through public sector communications roles for a
number of years. There have been significant changes for the better - more needs to be done.

Two years ago, I took up the role as sponsor for the LGBT+A Belong group which is employee-led and
supports anyone in the organisation with any issue they may be experiencing.

During that time – as well as attending my first Pride march - I've learned a lot about what it means to
be an LGBT ally, and tried to support our group progressing awareness-raising internally and externally
and worked to shape Scottish Water's policies and practices.

One of the most fascinating insights was attending the Stonewall Scotland annual conference in
Edinburgh where attendees listened and spoke throughout the day about their experiences at individual
and organisational level.

Understanding
It's helped shape my knowledge and understanding around issues such as identity, sexual orientation,
gender, making sure services are inclusive for all and harnessing the power of networks. It's led to some
powerful discussions with work colleagues.
Pride is a global movement which began out of protests against discrimination 51 years ago in New York,
focused on the LGBT community. In many respects, in 2020, it feels the world hasn't moved on much.
But it has.
Scottish Water is proud to be able to celebrate our LGBT communities, advocate for equality and
encourage allies to stand up, be visible and push for change.
Pride is a big, bold and beautiful symbolic global event. We're excited to be a part of it.
It's about more than just turning up at an event though, as important as that is. As Stonewall Champions, we're
actively working to develop equality in our key policy areas to ensure no-one is treated differently to
anyone else simply because they are lesbian, gay, bisexual or trans.