BLOG: We Must Work Together to Improve Our Water Efficiency
24 June 2020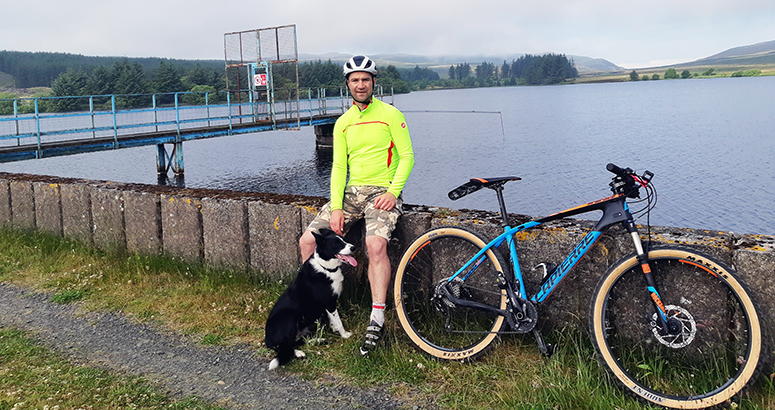 Challenges
Kes makes regular visits to our assets, including Harperleas Reservoir (pictured), part of the Lomondhills system in West Fife, which dates back to 1880.
"Water in the environment is a precious resource, and the less we need to take from it the more resilient we are to a changing climate."

Kes Juskowiak
Water Operations Manager, Scottish Water
Despite the views that it always rains in Scotland, finding sufficient quantities of good quality water is not always easy, therefore the sources we can use are limited.
As the Water Operations General Manager, I am privileged to visit many of our assets around the country - when not on Covid-19 lockdown. At almost every site the local teams have regular challenges on water resources.
I stay in Fife and regularly cycle past our reservoirs in the Lomond Hills and at Glendevon, and take great pride in knowing we are the stewards of these assets. Many were built a long time ago, with lots of them now over 100 years old, such as the Lomondhills reservoir system which was built in the late 1800s, and Lower Glendevon, which was built by World War One German prisoners and opened in 1924.
At Scottish Water we have a duty of care on these assets we inherit, to maintain them, ensuring continued benefit for future generations. We invest lots of time, money, and effort to minimise water losses and ensure Scottish Water is as efficient as possible. This starts from ensuring the resources are managed with the environmental licences, through to efficient treatment processes and reducing leakage in the networks.
Over the decades, customer use of water has changed significantly and the expectation of 24/7 availability of fresh, great-tasting water is a basic expectation of all. But how, and when, our customers use water can strain our assets at certain times.
In Scotland, we aren't metered for the water we use, but what we do know is that we have the highest domestic consumption per person in the UK at around 165 litres per day. During the Covid-19 pandemic, this has increased to over 200 litres per day – already reaching record levels in May, and it's not summer yet. When combined with warm weather, when garden water use increases dramatically, for things like sprinklers and paddling pools, we place considerable strain across the infrastructure to move the water as quickly as the customers need it.
Water in the environment is a precious resource, and the less we need to take from it the more resilient we are to a changing climate. Scottish Water, and our customers, need to work together to care for this precious resource and improve our water efficiency. This will lead to lower carbon emissions and less water which needs to be treated and pumped.
I'm passionate about ensuring the assets we have are capable of providing a resilient supply of great-tasting water to our customers into the future. Reducing our domestic water use to levels similar to Germany - at around 120 litres per day - could radically reduce our costs to supply water, reduce the burden on the environment, and ensure ongoing resilience for future climate change.
We all have a part to play, and small changes in the way we use our most precious resource will all add up.