BLOG: Raising the Profile of Women in STEM - Leanne Mackenzie
23 June 2020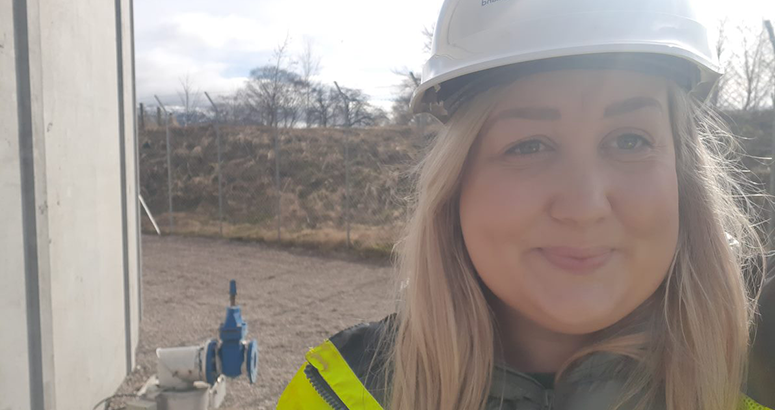 International Women in Engineering Day
Leanne Mackenzie works as a construction project manager at Scottish Water
"I am so passionate about raising the profile of female professionals and encouraging women and girls into the industry."

Leanne Mackenzie
Construction Project Manager, Scottish Water
I entered the construction industry around 10 years ago by chance. I left school with 5 Highers but had no real idea on what path I wanted to take.
As an 17 year old, university was not an option for me as I couldn't have afforded to live away from home without working full-time, and this would have impacted too much on my studies. I applied for an administrative role and wasn't successful, however I was subsequently offered a different position, as a Trainee Quantity Surveyor (which I had no awareness of) - I took the opportunity and thankfully, it paid off.
Since then, I have gained a BSc (Distinction) in Quantity Surveying at Inverness College and most recently, I graduated from Robert Gordon University with MSc (Distinction) in Construction Project Management, having studied via Distance Learning whilst working full-time. Working and studying was hugely challenging and it was difficult to balance my responsibilities (and sleep), but it gave me an opportunity to develop myself professionally and personally and I would recommend it to anyone considering their options.
Throughout my career I have worked in a variety of organisations with different functions, from a subcontractor, to a large main contractor and an offsite housing manufacturer. More recently I moved into the public sector and I currently work in Scottish Water's Capital Investment department, where I am a Construction Project Manager. I enjoy my role as I liaise with a lot of colleagues within the business who are all working hard to ensure our assets are effective and maintain a high quality of service to customers across the country.
I am responsible for a number of projects which focus on enhancing our existing infrastructure and replacing some of the aging pipelines within our water networks. I split my time between working in an office and visiting site, and I am very fortunate to get to explore our beautiful countryside.
I am so passionate about raising the profile of female professionals and encouraging women and girls into the industry. I volunteer as a STEM Ambassador and enjoy taking part in events and activities in schools to help inform the next generation of all the opportunities available to them within STEM. After all, you will rarely walk anywhere an engineer has not been before!
One element of the sector I wasn't prepared for was the lack of female representation, in all roles and business levels. This is a real challenge for me and unfortunately I have been subjected to sexism over the years. I recognise that recently there have been a lot more conversations opening up ultimately condemning discriminatory behaviours, but I still feel we all have a long way to go to ensure that STEM environments are inclusive and diverse, which won't happen without everyone participating.
I would highly recommend mentoring or coaching as an option for any girls or women looking to get into the industry. Even if this is informal, making connections with women who have established careers will be invaluable as you will be able to learn and grow through knowledge sharing. I benefitted massively from informal mentoring and hope one day I can pay this forward!