Alex Helps Inspire the Future Workforce
24 June 2020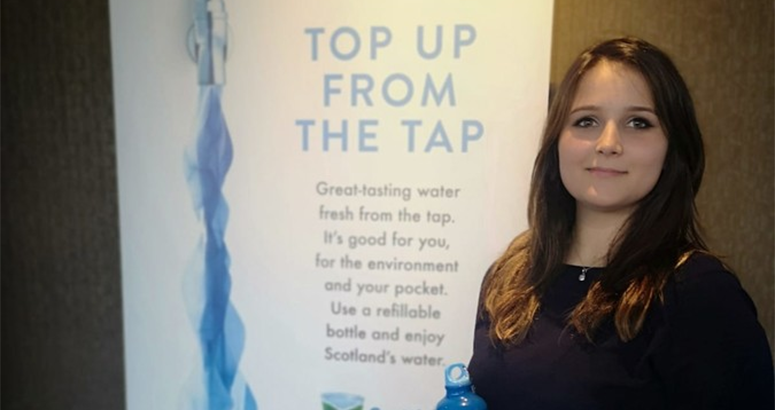 Mentoring scheme
Alex Combes has taken on the role of graduate mentor.
A Scottish Water employee is helping inspire female students to pursue careers in civil engineering as part of a new mentoring scheme in the north east.
Alex Combes, who graduated herself last year with a BSc Hons in Civil Engineering from Abertay University and now works in the Asset Impact Team at Scottish Water, has taken on the role of graduate mentor as part of the Female Civil Engineering Mentoring Scheme which has been officially launched by the University of Dundee.

As part of the scheme, she will be assigned a number of students to mentor and provide them with an insight into what a career in engineering could hold for them, while also helping support them with their academic subjects.
Alex said: "I'm delighted to be part of this scheme as I probably wouldn't be in the role I am now without the support and encouragement of my own colleagues and mentors. I wish I had a graduate mentor while I was at university, especially studying in water subjects such as fluid mechanics and water and waste water infrastructure so this is chance for me to help provide that for these students.
"I've been so fortunate to have such good role models and support throughout my time learning and working in the construction industry. I would love to see this sector bloom and provide opportunity for the most competent and capable individuals rather than base selection on their background, gender or race."
Alex, who was encouraged by her father and grandfather to pursue a career in civil engineering, said the best advice she had been given was always to aim for the top.
She said: "Someone once told me that 'There are those who are always aiming for the top, and those who aren't. That slight difference in attitude will have a big impact once you go out into employment.' - and I've found this to be true. If you give it 100 per cent and have faith in yourself, you will succeed."
Dr Margi Vilnay, lecturer in structural engineering and director for public engagement and outreach at the School of Science and Engineering, said: "At the University of Dundee, we are passionate about promoting engineering as a great career choice to women. Although it is an exciting and fulfilling profession, the UK still has the lowest proportion of female engineers compared to the rest of the EU.
"Research shows that exposure to relevant role models increases academic and career aspirations. We believe that introducing our students to role models, such as Alex, will have a profound effect on our students career motivation and in turn will contribute to a more diverse industry."