BLOG: Pride is a Deeply Important Part of Who I Am - Rozi Thomson
30 June 2020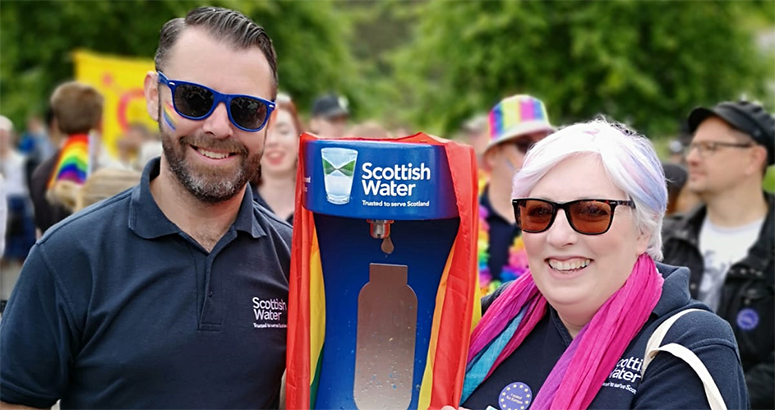 Belong
Rozi is proud to join colleagues at Pride events with Scottish Water's LGBTQ+ Belong Group
"Life will throw curveballs, and to be able to connect with people who understand makes a huge difference."

Rozi Thomson
People Change Leader, Scottish Water
I grew up in the 70s and 80s in Belfast. In many ways my upbringing was conservative – I went to a "good" school, I was an active member of the church, classical music was a big part of my life, and all this kept me active and busy and as far away from the troubles as it was possible to be living in Belfast.

Belfast was also deeply homophobic, and it was impossible for this narrative not to rub off. In pretty much every environment, LGBTQ+ was positioned as "wrong".

This never sat comfortably with me, and, over the years, I challenged what I had been brought up to believe. When I moved to Scotland and met new and more diverse people, I rejected the notion that my Christian values couldn't align perfectly with the acceptance of the LGBTQ+ community.

The thought of this community being treated any differently, or not being accepted, no longer made any sense to me. I watched and supported friends at home have the most difficult coming out experiences. I started to notice, and speak out about, homophobic "banter".

Now, I'm proud to say that the communities I'm part of feel inclusive. Friends, family, music, and church all still play an active role in my life, and I've watched attitudes change. Much of my network identify as LGBTQ+. While things have improved, it feels clear to me that much work still needs to be done.

It was then a joy and a delight to be approached by the Scottish Water LGBTQ+ group, part of its Belong network, to become their sponsor (a mantle which I've since passed on to Andrew Walker).

I found the group supportive of having me as an ally. We discussed what type of group we wanted to be, and what we wanted to focus on. A presence at Pride was key for us. This gave a clear and external message about Scottish Water creating a space where all could belong. We looked at the Pride marches we could support and got our first Pride budget to have a professional presence. We love our banner!

Little was I to know then, how much I would need this amazing group of folk in my life.

About a month before my first Scottish Water Pride, my eldest child came out as transgender. There was a lot to get my head around, and it was great to have colleagues help support me on that journey. Their gentle encouragement when I struggled with changing pronouns, changing names; someone who understood when I worried about the future and what it would mean for my child; and their constant positive narrative about how I was doing great (even when I didn't think I was). All this meant a lot.

We are now three years down the road, with a much happier teenager on our hands (though it still isn't easy, by anyone's consideration). This is why the Belong groups are so important; we are all different, and all experiencing life differently.

Life will throw curveballs, and to be able to connect with people who understand makes a huge difference. What a gift that we can offer that to each other at Scottish Water.

When someone in work understands, really understands, it makes a fundamental difference to your ability to be yourself at work. You know who you are guys – thank you.