Video Call Commissioning Completes Renewal of Lairg's Water Supply
06 July 2020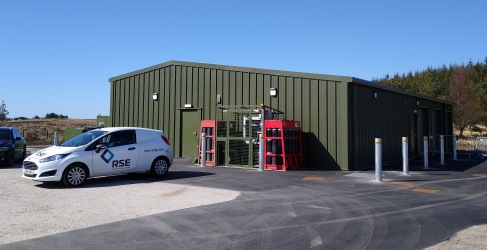 Lairg's £5m new Water Treatment Works at Savalbeg which was commissioned using remote working technology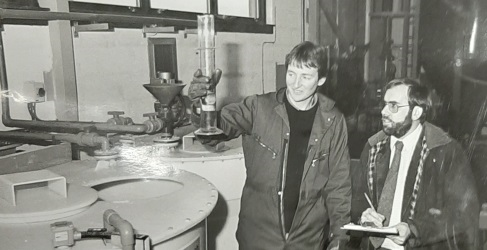 John Anderson and then Area Manager Joe Moore at the opening of Lairg's previous WTW in the early 1990s
A new state of the art water treatment works is now serving Scottish Water customers in Lairg, after an innovative approach to commissioning enabled the new plant to be brought online during the coronavirus pandemic.

The £5m facility was approaching the final stages of preparation in March when strict public health restrictions were introduced to prevent the spread of Covid-19.

Usually commissioning would require a number of people from Scottish Water and its supply chain to be present on site, but to comply with social distancing and keep staff as safe as possible, one engineer from contractor RSE (Ross-shire Engineering) carried out the necessary tests while other members of the Scottish Water team observed via video call and monitored telemetry data.

A new approach to training for the team who will be running the site was also required, with initial familiarisation carried out via videos and training manuals, followed by socially distanced one-to-one training on site.

Last year the new treatment works was transported by road to its long term home at Savalbeg in 3 large units, after first being assembled and tested at RSE's specialised factory in Muir of Ord. The project, which has been led by Scottish Water's delivery alliance partner ESD, used a modular approach to construction, developed via a long term partnership between Scottish Water and RSE in response to the needs of rural communities.

Project Manager Graeme Campbell from Scottish Water's alliance partner ESD said: "This project is vital for securing the future of Lairg's water supply, so when the Covid-19 restrictions came into place we had to think differently to ensure the plant could be commissioned and start to serve the local population, while also keeping everyone safe.

"It was great to see how the team from ESD, Scottish Water and RSE came together to ensure that the project, which was already so close to completion, could be carried over the finishing line."

Scottish Water treatment operator John Anderson will be part of the team responsible for running the new plant - and also helped operate the previous plant when it opened in the early 1990s. John said: "While I'll miss the old plant in a funny way, it had really come to the end of its operational life and this new plant will make things a lot easier for us, while continuing to ensure customers in Lairg receive a reliable supply of clear, fresh and great tasting drinking water for many years to come.

"Although the final commissioning and training was a little different to normal, it all went very smoothly and I'm really pleased that the new treatment works is now up and running. We are grateful for the local community's patience, especially in the important final stages over the last few months."

Daniel Sutherland of RSE added: "It was enormously important to get Lairg's new state of the art water treatment works into service, but we had to do that in a way that kept our people, Scottish Water's team and the wider community safe during a very difficult time for everyone.

"Using live video and real time monitoring of telemetry data to complete final commissioning was a great success. Everyone who needed to be involved was able to take part, even though the space within the building could not have allowed them to be physically present. It's an approach we hope to build upon in the months ahead as we continue working with Scottish Water to keep the country's water flowing."

Lairg's water supply is drawn from Loch Beannach, around 2.5 miles to the north. Following the successful switch over to the new water treatment works at Savalbeg, final minor work is expected to be completed on the site over the coming weeks. Scottish Water plans to carry out separate work later in the year to remove the byproduct of the old water treatment process and reinstate the area where it has been stored, rounding off a significant chapter in the site's history.