Scottish Water Backs Beauty Spot Anti-Littering Plea
09 July 2020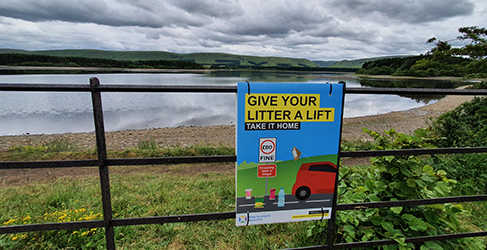 New signs at Gladhouse Reservoir: 'Give Litter a Lift' home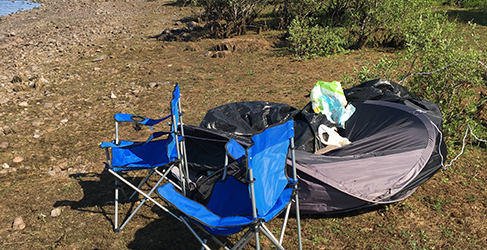 Litter blight: abandoned camping gear at Carron Valley Reservoir
"This sort of anti-social behaviour not only creates a significant health hazard but also eats in to the limited resources that land managers have at their disposal."

Simon Hodgson
Chief Executive, Forestry and Land Scotland
Scottish Water is backing a multi-agency appeal to urge visitors to Scotland's beauty spots to take their litter home as Covid 19 travel restrictions are eased.
We've joined the call for more responsible behaviour, led by Forestry and Land Scotland, asking the Scottish public to help prevent a repeat of recent shameful scenes of littering as car parks and popular destinations re-open.
The drive is backed by land managers, environmental experts and campaigners, including Zero Waste Scotland, Keep Scotland Beautiful, Loch Lomond & The Trossachs National Park Authority, Scottish Natural Heritage and Cairngorms National Park Authority.
Scottish Water has already experienced anti-social behaviour issues at some popular sites, including Gladhouse Reservoir in Midlothian and Carron Valley Reservoir near Stirling. where rubbish bags, human waste, nappies, damaged trees and abandoned camping gear have been left.
Brian McCarthy, Reservoir Manager at Scottish Water, said: "Many of our reservoirs are situated in beautiful countryside locations and are available for the public to access for recreation but it's important everyone can use and enjoy these spaces without having to encounter irresponsible littering or anti-social behaviour.
"We recognise the public are transitioning out of lockdown and venturing outdoors, especially in the warm weather. There is great pride that we live in a country with so much natural beauty, and it's a shame to see it spoiled by a small minority of people.
"So far this is the worst summer for littering we've encountered and this problem seems to be consistent across Scotland, with recent scenes of mess and damaged property left in many other popular destinations.
He added: "We support the FLS call for people to behave responsibly, and we're urging visitors to leave no trace when they leave our sites.
"The public should also be mindful that these are operational sites. Please look out for safety signs which highlight the dangers that can be encountered at our reservoirs especially when close to or entering the water."
Simon Hodgson, Forestry and Land Scotland Chief Executive, said: " As Scotland gets re-accustomed to travelling further afield for leisure pursuits, we are appealing to the public to help avoid repeats of the selfish, irresponsible behaviour that over the past few weeks has seen many sites swamped by litter – or even despoiled by human waste.
"This sort of anti-social behaviour not only creates a significant health hazard but also eats into the limited resources that land managers have at their disposal.
"We would urge people to, first of all, think carefully about their travel plans, and secondly to behave like people who are proud to be able to call such a beautiful country home: don't visit sites until they are open and take your litter home."
Scottish Water is committed to working with communities to tackle the issue, to allow everyone to enjoy these vital outdoor beauty spots, whilst respecting the environment, wildlife, and local residents.
We have already erected new anti-littering signage, in partnership with Keep Scotland Beautiful at some of our most popular sites, urging the public to 'give litter a lift' home when they visit.
We are also urging people to stay safe, act responsibly and not take risks around reservoirs, rivers, and lochs, with our #ReservoirSafety social media campaign, as we head into the summer months and more people flock to the outdoors.