Clean Up Underway After Oil Dumped in Sewer Network in Borders
14 July 2020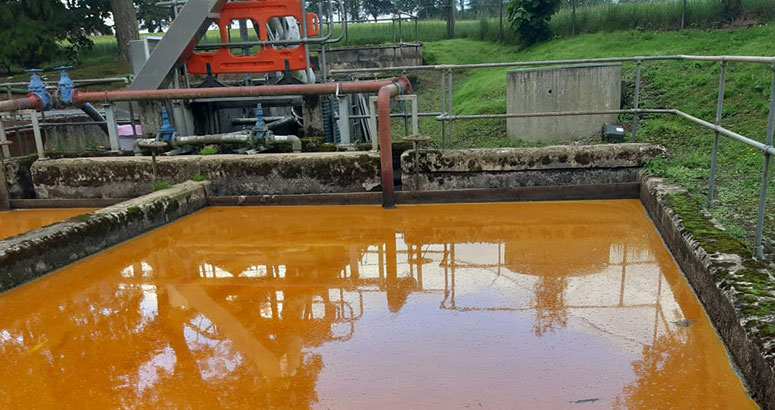 St Boswells Waste Water Treatment Works
A large amount of fats, oils and grease (FOG) was discovered in the primary tanks
People are being reminded to think twice about what they put down drains and sinks after a waste water works in the Borders was contaminated with used cooking oil.
Scottish Water has started a major clean-up at St Boswells Waste Water Treatment Works where a large amount of fats, oils and grease (FOG) was discovered in the primary tanks at the site.
If FOG is poured down sinks and drains it can form congealed lumps known as 'fatbergs'. They can block sewer pipes, leading to internal and external floods and environmental pollution incidents, which contaminate our rivers and streams.
Alan Aitchison, Scottish Water's Waste Water Team Leader South Borders, said: "The amount of cooking oil which entered our works at St Boswells was significant.
"We now have to empty and carry out extra cleaning of a number of tanks, and we will have to transport the contaminated sludge to Galashiels Waste Water Treatment Works where it will be disposed of and correctly treated, in a way which is non-harmful to the environment.
"Everything you dispose of down sinks and toilets will all end up in the drains and sewers – and we urge everyone to think twice about how they dispose of fats, oils, grease and other products such as wipes and cotton buds that aren't biodegradable that can potentially lead to sewer blockages that will impact our water courses and environment.
"Toilet paper is the only biodegradable material that should be disposed into the sewer collection system, all other items should be bagged and binned for disposal."
Every day Scottish Water deals with around 100 bursts across the country, many caused by FOG being put down drains and sinks by at home or by businesses.
FOG factfile:
Fat, oil and grease may not appear harmful but as it cools it congeals and hardens
This can cause blockages to the inner lining of drainage pipes, which can lead to waste water flooding into gardens and properties and cause a health hazard to wildlife and the local environment
In extreme cases blocked sewers can spill into burns, rivers, streams, coastal waters and beaches which can cause environmental damage
Scottish Water deals with 35,000 blockages every year – at a cost of £6.5 million to attend and clear
The waste water drain which runs from your house to the public sewer is usually only about four inches wide - less than the diameter of a DVD