Fife Reservoir Gets Green PV Power
04 August 2020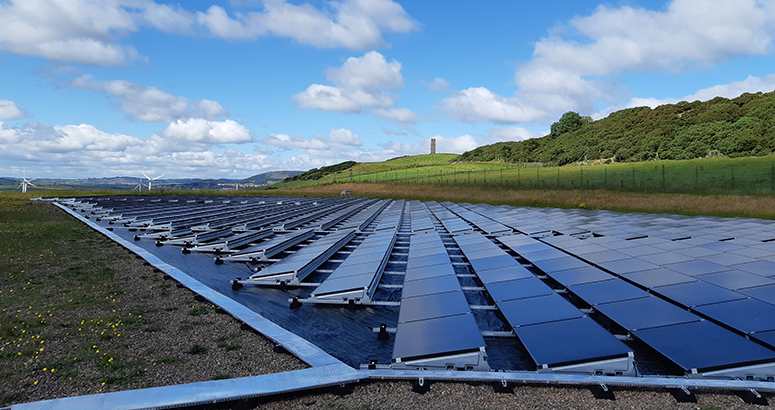 Finmont Service Reservoir Goes Green
The 1000 solar panels will offset a quarter of the electricity needed for the site.
A Fife site will turn to green energy to boost Scottish Water's pledge to reach net zero emissions by 2040.
Finmont Service Reservoir, near Lochgelly, has been fitted out with almost 1,000 solar Photovoltaic (PV) panels. The carbon-reducing technology – which works by converting light into electricity using semi conducting materials - will offset a quarter of the electricity needed to operate the facility.
Scottish Water Horizons, our commercial subsidiary, invested £325,000 installing 944 PV panels at the site which - along with Whitehill Service Reservoir which is 200m to the north of Finmont Service Reservoir provides the main storage facility for the central Fife distribution system.
The new 297kW solar PV system has now gone live. It is set to generate 0.25GWh of energy every year - enough to power around 75 homes and save 73 CO2 eq tonnes of carbon per annum.
Renewable energy experts FES Support Services delivered the project at the service reservoir located at Finmont Farm in Kinglassie. Staff fitted the state-of-the-art technology during the ongoing Covid lockdown while adhering to strict guidance set out by the Scottish Government.
The team were forced to delay their start back on site for two weeks to allow Oyster Catcher chicks to hatch in a nest which had been built during the initial phase of lockdown when all works were halted. They waited until all three chicks had left the nest before restarting the project.
Eddie Johnstone, Senior Project Manager at Scottish Water Horizons, said: "This is the latest solar power scheme which we have delivered to encourage growth and investment in renewable technologies.
"These carbon-reducing solar schemes demonstrate Scottish Water's drive to tackle climate change and become a zero-carbon user of electricity.
"The energy needed to provide customers with essential water and waste water services makes Scottish Water the largest single user of electricity in the country. We are committed to finding alternative ways to develop and accelerate green energy schemes to reduce that carbon footprint.
Eric Ross, Scottish Water Networks Team Leader for the East area, said: "A number of practical measures were taken to ensure construction works at the site were carried out safely and with minimum disruption.
"Customers in the Fife area should be pleased to hear their water is being supplied in a way which has a lower impact on the environment than ever before and using technology which will help drive down operating costs too."
There are now 75 of Scottish Water's water and waste water treatment works are now either self-sufficient or partly sufficient in their power requirements.
Scottish Water has committed to reach net zero carbon emissions by 2040 with an interim target to host or self-generate three times its annual electricity consumption by 2030.