Visitor anti-social behaviour at reservoirs under spotlight
07 August 2020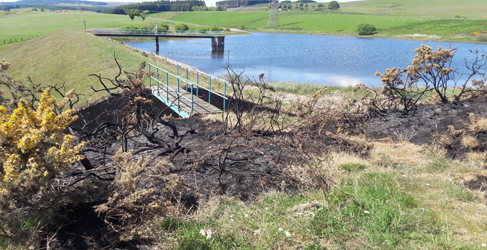 Burnt gorse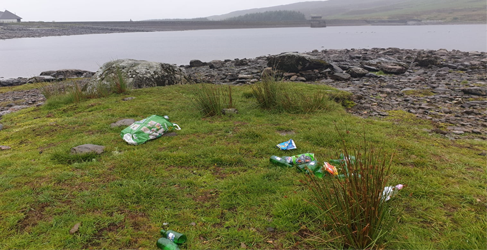 Litter, including glass bottles, abandoned
Visitors to Scottish Water reservoirs are being urged to act responsibly.
Ahead of the weekend and forecast fine weather, sites are expected to attract higher than normal numbers of people keen to get out and about following lockdown restrictions.
However, in recent weeks acts of anti-social behaviour have been reported at various reservoirs around the country.
Incidents of vandalism to property, damage to trees and fires being lit and left unattended have all been recorded. Littering has also been an increasing issue with both food and drink containers and wrapping being left, tents discarded as well as human waste.
Safety is also a key factor with reports in several places of individuals being in the water and also jumping and diving from water towers which are part of the working infrastructure of our reservoirs.
Scottish Water is working with a number of partners to encourage people to leave no trace when they visit beauty spots, including public reservoirs and surrounding land.
Liaison is taking place with the police in hotspots where anti-social behaviour is most prevalent.
In recent weeks reservoirs near large centres of population have seen an influx of people.
Issues have occurred at reservoirs at Gladhouse and Clubbiedean, near Edinburgh, Lintrathen, Backwater, which supply water to Dundee and Perth, Loch Turret, near Crieff, Milngavie which is part of the Glasgow supply network and also Greenside, West Dunbartonshire, and Stanley, near Paisley. Carron Valley Reservoir has also seen anti-social behaviour take place.
Peter Farrer, Chief Operating Officer, Scottish Water, said: "We are seeing a significant increase in the number of people visiting reservoirs and I understand the desire to get out and about especially with the restrictions which have been in place.
"However, the behaviour we have seen from a sizeable minority of people is unacceptable.
"Property including fencing has been vandalised, trees cut down for fires, fires set and left to burn uncontrolled, human waste left lying and litter discarded without any consideration for others or the environment.
"We have had incidents of people being in the water and jumping from reservoir towers. There are many hidden dangers in reservoirs as they are working assets and vital to our water supply network. Add to that, the fact that cold water shock could easily result in someone getting into real difficulty.
"My message is clear and simple: you're welcome to visit but please behave appropriately. Leave no trace by taking your litter or other items away and disposing of them properly and respect the environment."
Any form of damage to the environment is in breach of the Scottish Outdoor Access Code, developed by Scottish Natural Heritage, which offers guidance on the rights and responsibilities of the public and land managers such as Scottish Water. The code's key principles include: respect the interests of other people, care for the environment, and taking responsibility for your own actions.