BLOG: Work Takes Me to Amazing Places - Jazmine Fraser, Modern Apprentice
13 August 2020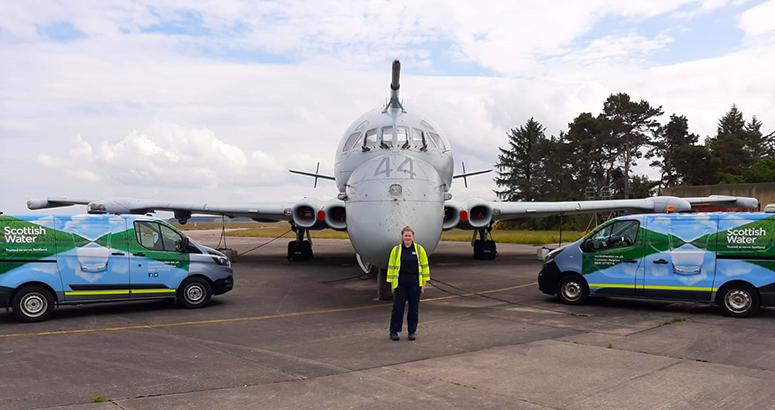 Flying High
No two days are the same. Jazmine, 19, gets up close to old Nimrod, at Kinloss, as part of her daily tasks as a Modern Apprentice at Scottish Water.
"I'd recommend considering a Modern Apprenticeship at Scottish Water to girls out there thinking about their next move."

Jazmine Fraser
Modern Apprentice, Scottish Water
The other day I was standing next to a giant Nimrod aircraft on an army base in the north of Scotland, wondering how many people get to do that as part of their daily job.
During my first year as a Modern Apprentice with the Field Response Team at Scottsh Water, I've managed to see places in Scotland I would never have had the opportunity to, if I didn't have the job I have today.
It's just one of the amazing experiences I've had as a Modern Apprentice and something I never imagined I'd be doing.
After school, I'd accepted a place at uni, but didn't know what I really wanted to do. I knew I wanted to do something with the environment and outside. I did work experience in an office and hated every minute!
I hadn't considered an apprenticeship, but my careers advice teacher showed me the opportunity with Scottish Water and it just sounded perfect.
I'm based in north Aberdeenshire and most days I'm out and about. Who knows where I'll end up – attending a flooded field on a farm, a customer with low water pressure, and even an army base.
A few weeks ago I was lucky enough to see the 'Duke of Edinburgh' – the last surviving Nimrod aircraft from RAF Kinloss, which was saved from the scrapheap after the fleet was taken out of service. I took some cheeky snaps, but we did do some work too – checking all the hydrants on the base that day.
As well as the old Nimrod I've also been able to see a brand new one, which was only a couple of months old. How many people can say they've been up close to one of those! I've also visited Orkney for work and saw the Churchill Barriers which are four causeways connecting to other local islands, which was amazing.
Jazmine loves role as Modern Apprentice at Scottish Water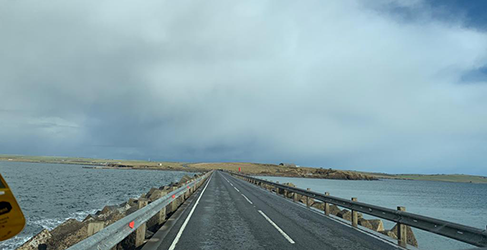 Visit to the spectacular Churchill Barriers on Orkney
I was really shy at school and couldn't talk to people easily, so I wasn't sure what to expect when I joined Scottish Water, as most of the team are men. But within a couple of weeks I loved all the banter and they've been great to learn from.

I have a mentor who has taught me a lot and helped my confidence. Now I feel like I can talk to anyone on a doorstep, and that's important as it's all about solving problems for customers.

Due to the Covid-19 pandemic I have my own van now and I love dealing with customers, taking the time to learn a bit about them and be interested in their story. They really appreciate someone listening to their problem and, even if you can't help them, to hear your advice.

This job is ideal for me, working outside and as part of a team. I also joined the Women in Scottish Water Belong support group and met loads of really influential women who are successful. It was inspiring to hear about their experiences and to see how they have progressed in their careers.

I've been here nearly a year now, I'm only 19 and I earn while I learn which is fantastic. I'd recommend considering a Modern Apprenticeship at Scottish Water to girls out there thinking about their next move - as long as you don't mind getting your hands dirty!