BLOG: Kids were Happiest I've Ever Met - Lousie Bannerman
20 August 2020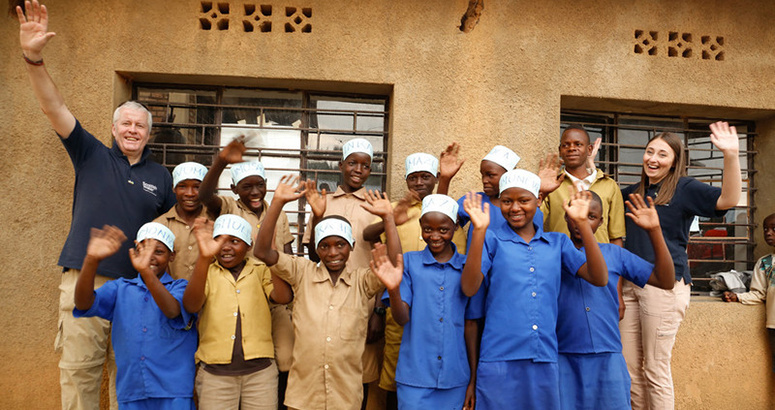 Warm Welcome
Louise was bowled over by the warm welcome she got as she saw first hand how Scottish Water is helping to improve young lives at school, with WaterAid project.
"It's far more than just providing toilets, or menstrual hygiene rooms. They are giving these amazing young girls back their dignity, and a chance at an education."

Louise Bannerman
Senior Customer Insight Lead, Scottish Water
It's time to break the silence on periods
During our visit to Rwanda almost 3 years ago, Ewan and I visited schools in the Nyamagabe district, one of the poorest districts in the country.

This is where – thanks to Scottish Water fundraising – we were building new toilets with handwashing facilities, and menstrual hygiene management rooms.

I was blown away by the welcome we received at each and every school. Hundreds of pupils and teachers would greet us with dancing and songs.

Many of the children didn't even have shoes on their feet, yet they were the happiest children I have ever met in my life!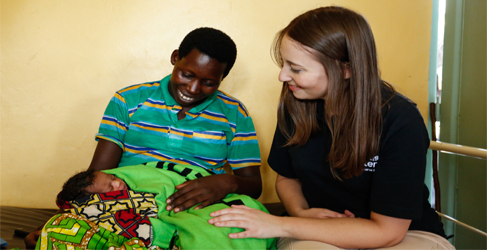 Photo credit: WaterAid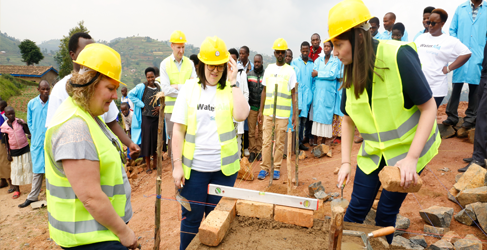 Photo credit: WaterAid
Clean water and decent toilets are basic human rights
In Scotland, access to clean water and a decent toilet is often taken for granted.
However, for children going to school in Nyamagabe, the reality is very different. For schools that didn't yet have WaterAid's intervention, the latrines were little more than holes in the ground, with very little privacy. There were maybe 8 of these latrines to serve 2,000+ pupils, and lacked proper handwashing facilities.
Today, 18% of women and girls in Rwanda miss school or work because they can't afford period products.. And globally, one in four girls don't have access to a decent toilet to manage their periods. If there's no decent toilet at school, girls are more likely to miss classes or drop out altogether once they start their periods.
When women and girls are denied their right to clean water and a decent toilet, they are denied dignity and privacy. No toilets that lock properly, no adequate period products or bins to put them in, no water to keep themselves clean.
All of these things are not only humiliating, but can also be unsafe for women and girls on their period. Very often the embarrassment forces them to stay at home, instead of working or going to school. Ultimately, it means millions of girls and women have fewer opportunities and are disadvantaged at every stage of their lives.
Tackling a taboo
Thanks to support from Scottish Water, Nyamagabe Alba is delivering menstrual hygiene management rooms; a safe, clean space where girls can manage their periods in privacy. I spent a lot of time talking to female pupils about the impact these rooms, new toilets, and handwashing facilities would have.

I will never forget the two amazing young girls I met in Nkumbere School, both called Mary. They are best friends, and both wanted to be doctors when they grow up. They spoke passionately about school, and really enjoyed their classes. However, they were also very open about the pressures of having your period whilst at school. The lack of privacy at their current latrines and no washing facilities were a cause of great stress and potential embarrassment. Their teacher told me that it's not uncommon for girls to just stop going to school during their periods to avoid this stress and embarrassment. I couldn't believe that their education was being compromised just because of their periods. This is not just isolated to Nkumebere School – sadly, this was the case in all schools I visited.
Periods don't stop during pandemics
Before I went to Rwanda, I knew Scottish Water were funding toilets and menstrual hygiene rooms. However, I left Rwanda with an understanding of the wider impact these facilities will have. These are far more than just toilets, or rooms. They are giving these amazing young girls back their dignity, and a chance at an education.

As we emerge from lockdown and develop long-term solutions to the crisis, now is the opportunity to prioritise the provision of clean water, good sanitation and hygiene. It is not only critical in the fight against COVID-19 but also essential for women and girls to manage their periods.

We are continuing to support WaterAid with their work throughout the pandemic to provide clean water, decent toilets and good hygiene to people living in poverty, including helping vulnerable people to access menstrual hygiene products and information.
5 in 5 Challenge
We still need to raise funds to support the next phase of the project in building rainwater harvesting systems.

You can take part in the 5 in 5 Challenge, to walk, run or cycle 5km for 5 consecutive days whilst raising money for WaterAid. Share your challenge using #5in5 and make a donation to WaterAid via the JustGiving page.
Thanks to support from Scottish Water, the Scottish Government, and other partners, we are transforming lives by bringing clean water and decent toilets to schools and remote communities in Rwanda.