BLOG: Rwanda Needs Our Help More Than Ever - Ewan Robertson
18 August 2020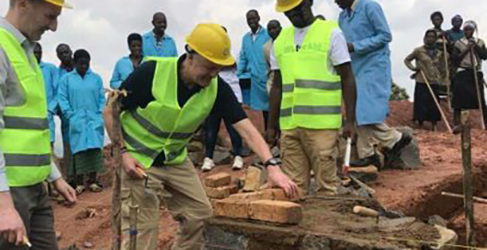 Ewan lays first brick for new toilet block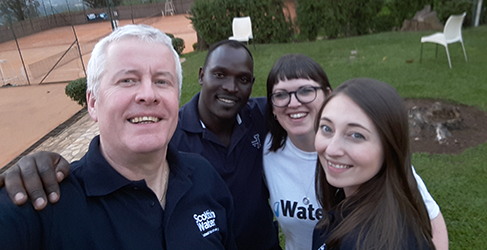 Ewan reflects on his visit to Rwanda in 2018
"I left Rwanda having learned a lot about their vision and culture - and the determination of the  communities to make a lasting change
"

Ewan Robertson
Specialist Services General Manager
Rwanda revisited
Two years ago, I had the opportunity to visit Rwanda to see for myself WaterAid projects supported by Scottish Water. It was a leap into the unknown for me.

It was my first visit to the country – a place I only really knew about from the news headlines.


A warm welcome
What developed from my visit was a deep emotional connection to a country and to the people, a direct result of my experience with Scottish Water through the work of WaterAid.
When I see Rwanda in the news or documentaries, I am reminded about the beauty of the countryside, the warmth of welcome we received, the happiness of the children we met and their love of singing, dancing and playing football.


I am also reminded of the contrasts – particularly the poor sanitation and hygiene, which many of the young people we met at the schools had to endure.

Today, two in five people in Rwanda don't have access to clean water. Yet Rwanda is a country that has embraced change and inspires potential for a bright future.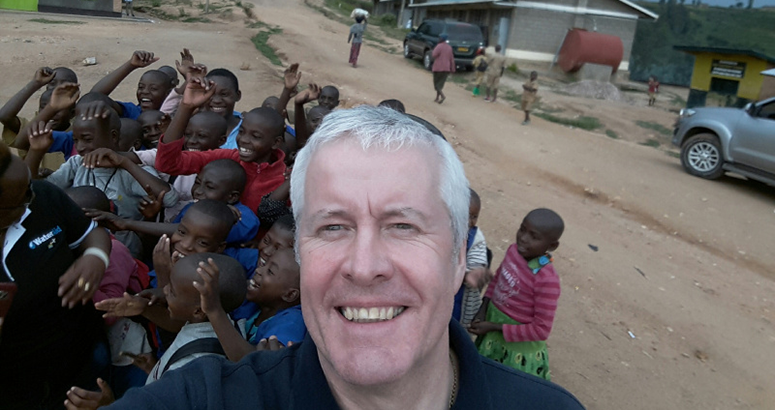 Better Lives
Ewan is proud of Scottish Water's work with WaterAid, to help improve daily life for thousands of schoolchildren in Rwanda.
Understanding daily challenges
I recall meeting Cyrillo and his family and hearing about how he was saving up to install a VIP latrine for his family to help protect their health. A latrine like this costs $22. But he earned just $1 a week. As we left, Cyrillo was apologetic that he had not had chance to prepare food ahead of our visit.

When I visited the toilet block at GS Mulico school, I was choking on the fumes as I tried to enter. Young girls from the Nkumbure School shared their experiences and challenges they face when using the inadequate menstrual health facilities.

I also remember the excitement on all the boys' faces when I brought out a football and we had a kick about in their playground.

I left Rwanda having learned a lot about their vision and culture - and the determination of the communities to make a lasting change. I was also better equipped with knowledge about the daily challenges they face due to the lack of access to clean water, decent toilets and good hygiene.

Rwanda is a land-locked country that is densely populated. Sanitation engineering isn't easy. It rains a lot and the roads can be poor. But I felt their energy, enthusiasm and ambition - and they made me feel at home. So, I wanted to play a part in helping out.


Significant progress
I have just read the Annual Report of the project that Scottish Water and the Scottish Government are supporting in Rwanda. It is amazing to see what our employees have helped to achieve. Since my visit in 2018, more schools are equipped with decent toilets, menstrual health facilities and access to handwashing facilities - including at Nkumbure School where I helped to lay the foundations of the new girls' toilets.

We have also reached over 300,000 people with water, sanitation and hygiene (WASH) messages and 32,000 households now have improved access to decent toilets.


Still more we can do
We all need clean water to wash our hands, keep our homes and hospitals clean and protect against COVID-19. But today, many people in Rwanda struggle to access this vital resource, putting them at risk.
COVID-19 has had such an impact on our fundraising this year and now, more than ever, we need your help.. We still have another year and a half on the project and we still need to raise funds to support the next phase of the project in building rainwater-harvesting systems.
This year we are introducing the 5 in 5 challenge. We are challenging you, your family and friends to walk, run or cycle 5km for 5 consecutive days whilst raising money for WaterAid. Share your challenge using #5in5 and make a donation to WaterAid via the
JustGiving page
.
Please do get involved and make sure we can continue to support the incredible people of Rwanda
Thanks to support from Scottish Water, the Scottish Government, and other partners, we are transforming lives by bringing clean water and decent toilets to schools and remote communities in Rwanda.