Top Industry Award for Scottish Water Manager
26 August 2020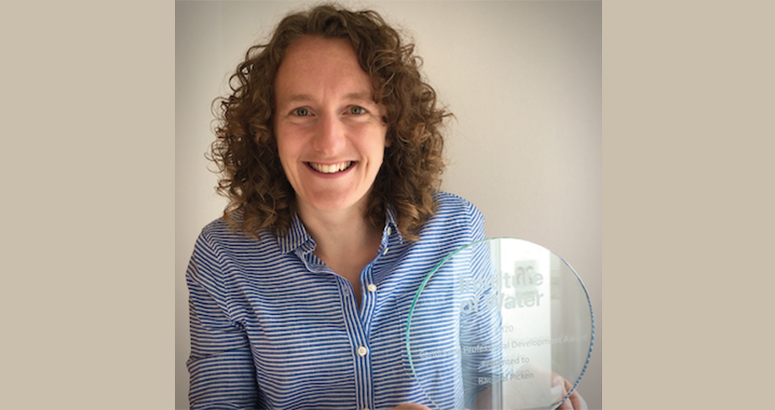 Rachael Picken with her award
Rachael has been awarded the Institute of Water's Continuing Professional Development (CPD) Award for 2020
Rachael Picken has been awarded the Institute of Water's Continuing Professional Development (CPD) Award for 2020 – the first time anyone from the utility has won the accolade.
Judged by UK water sector peers it is awarded to people who have demonstrated commitment to continuous learning and improvement. It looks at how they identify skills gaps and set goals for ongoing development activities including formal learning and experience outside of work too.
Rachael, 33, who is normally based at Scottish Water's head office in Dunfermline, said: "It was a real honour to be recognised with this award, especially as I was nominated per chance as part of ongoing Chartership monitoring by the Institute among water industry peers from across the UK''.
"Winning the award was great recognition for the commitment that I have put into developing my skills and capability, and is a reflection of the great opportunities I have had at Scottish Water over the last few years. It was that little bit extra special as this is the first time Scottish Water has won this award in 17 years."
The mother-of-two, an Investment Appraisal Transformation Manager, has worked at the utility for 9 years. She works in a team ensuring Scottish Water's future investments deliver great value, building on customer service excellence and supporting the commitment to Net Zero emissions by 2040.
Rachael, who lives in Callander, was presented with her award online due to the ongoing Covid pandemic.