Transforming Lives in Malawi with WaterAid
24 September 2020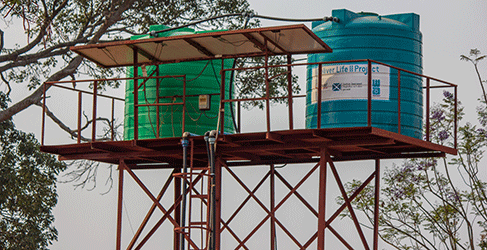 All images courtesy: WaterAid/Dennis Lupenga & Liz Parham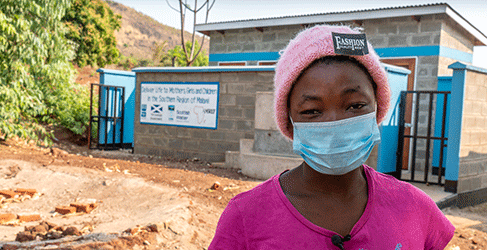 Access to water is vital for communities
"The hospital was not prioritised and we had to queue for water. At times we had to beg by explaining the urgency of the water, especially for our maternity ward."

Francis Kautale
Medic in Charge, Nyambi Healthcare Facility
Scottish Water has helped WaterAid to 'Deliver Life' to more than 141,000 of the poorest children, young girls, and mothers in Malawi.
We have worked with WaterAid for the past two years on a project to help communities in the Southern Region of Malawi get clean water supplies, decent toilets, and good hygiene.
This year, these communities have faced the additional challenges of an unprecedented global pandemic.
So far, Malawi: Deliver Life has provided piped water supply systems to the Kawinga and Nyambi Health Care Facilities (HCFs) – serving more than 66,000 people. Healthcare workers have also been trained in infection prevention and control, to help implement improvement plans at their facilities.
At Nyambi HCF, WaterAid and their local partners rehabilitated the water tower and provided a new 10,000 litre water tank after their two old tanks were damaged and collapsed.
Francis Kautale, the medic in charge at the centre, described conditions before running water: "We relied heavily on using a community borehole located near the hospital.
"However, the hospital was not prioritised and we had to queue for water. At times we had to beg by explaining the urgency of the water, especially for our maternity ward."
More than 800 toilets and over 1,700 handwashing facilities have now been constructed across the region, giving access to improved amenities for almost 5,000 people. And local waterpoint committees have been trained on troubleshooting and maintenance skills.
Promotional hygiene campaigns mean around 5,500 women and adolescent girls now know about water, sanitation and hygiene, maternal neonatal, and child health rights.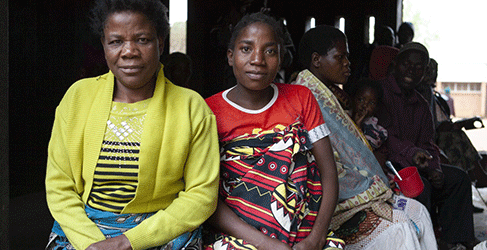 Khisse and her eight months pregant niece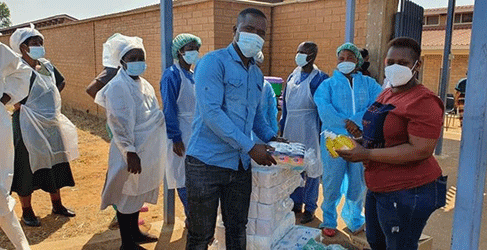 WaterAid is providing vital supplies during global pandemic
The Malawi: Deliver Life project will also help women like Khisse, 51, from Nampeya Village in Malawi, who had to walk 26 miles – the equivalent of a marathon - with her eight months pregnant niece to Chikwewo Health Care Facility.

When they arrived, they found a power outage had cut off the electricity. The facility also had no running water or decent toilets, and the women were forced to sleep on the floor.

Describing conditions before the birth, Khisse said: "I worry that the baby or my niece could get sick or I could end up getting ill from an infection that we get at the hospital because of the conditions.

"Several of us have gotten sick and had to go to that same hospital to get medication.

"If there was water it would bring a great deal of dignity to the women who come to this facility.

"It would also do a great deal for the women, like me, who are guardians at the hospital because we are currently ridiculed in the community and people make fun of us.

"We haven't bathed, brushed our teeth, we haven't done anything, but we have to get up and go fetch water in the market centre."

Thanks to the support of Scottish Water, the Scottish Government, and other partners, WaterAid is now bringing clean water and decent toilets to Chikwewo HFC, with construction on the new water supply system due to start at the end of this month.
"If there was water it would bring a great deal of dignity to the women who come to this facility."

Khisse
Guardian for her pregnant niece
Andrew Walker, Head of Communication at Scottish Water, visited Malawi for the first time last year and saw for himself the everyday miracles of life that happen in most difficult of circumstances, and why the vital support of organisations like Scottish Water is so important.

But as a father-of-two himself, the achievements of the Malawi: Deliver Life project are also very personal to him.

He said: "I met Khisse and her niece during my visit, and hearing first-hand of their experience impacted me deeply.
"Having access to clean water, decent toilets and good hygiene is a basic of human life, no more so than in this setting, where new babies are being delivered."

Scottish Water has also supported work by WaterAid to help the Malawian government's response to the Covid-19 global pandemic.

Along with promotional campaigns, work has focused on preventative measures to stop the fast spread of the disease, including providing equipment and supplies to support good hygiene practices, such as hands-free handwashing stations, soap and sanitiser, disinfectant, and personal protection equipment (PPE).

Next year, the project hopes to increase access to sustainable clean water, decent toilets, and good hygiene in communities, healthcare facilities, and early childhood development centres, including safe water points and basic toilet facilities.
Projects are Vital
As the spread of Covid-19 continues, WaterAid is working fast to prevent the spread of disease and protect vulnerable communities with already fragile healthcare systems, who are most at risk.

Two in five healthcare centres globally do not have anywhere for medical staff to wash their hands with soap and water where they treat patients. So projects, such as Malawi: Deliver Life, have never been more crucial.

Ewan Robertson, chair of WaterAid Scotland, said: "We are incredibly proud of our long-standing partnership with Scottish Water and WaterAid.

"Thanks to this continued support, we have helped transform the lives of some of the poorest children, adolescent girls, and mothers in the Southern Region of Malawi, not just for today, but for good."

Ewan, who is also Specialist Services General Manager at Scottish Water, added: "As the Covid-19 pandemic continues to escalate, our partnership work to bring clean water, decent and good hygiene to everyone, everywhere, has never been more critical.

"We hope that by working together we can continue to help change the lives of many more women like Khisse and her niece so that expectant mothers can safely bring new life into the world, and healthcare workers can keep themselves and their environment clean, stay healthy, and stop the spread of diseases like Covid-19."