BLOG: It Feels Good to Talk about Mental Health - Stuart Sutherland
10 October 2020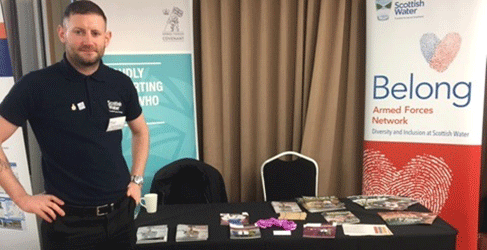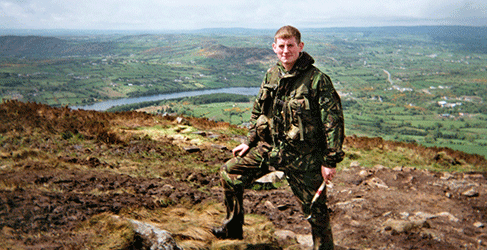 As an Armed Forces Veteran it's taken me years to realise how vital it is to look after your mental fitness to stay at the top of your game.

I'm a programme manager with Scottish Water's Capital Investment team, but I'm also co-lead of our Armed Forces Belong Network, a group which brings together those with shared experiences to support each other, and a Mental Health First Aider.

Today is World Mental Health Day - a good time to recognise the immense impact my time in the Forces had on me, and how far I've come in managing my mental health.
"Mental health wasn't often talked about or something that my peers, friends, colleagues focussed on too much. Today that picture is very different."

Stuart Sutherland
Capital Investment Programme Manager
I was a Combat Engineer in Bomb Disposal, operating in a constant state of alert and sustained pressure for long periods of time. It was vital, for my safety and that of my colleagues.
But back in civilian life, I didn't understand how much it had affected me mentally. That constant adrenaline and cortisol which had kept me safe and my performance levels high simply didn't switch off.
It was great for sports and high octane environments, sports, exams, job interviews. In reality, it was hiding cumulative and chronic stress. The warning signs were all there, mood, fatigue, and total burnout.
Ten years ago, prior to joining Scottish Water, my understanding of stress and the impacts of working in a stressful or high-risk environment were limited, if not a bit blasé.
Mental health wasn't often talked about or something that my peers, friends, colleagues focussed on too much - trauma, yes - but the increasing stresses of day-to-day life were just not something any of us openly recognised very often.
Fast forward to today and that picture is very different. Managing our mental health is much more widely understood and openly talked about.
I now frequently have conversations in the workplace and at home, the warning signs are well recognised. I find we're all more open to asking each other how we're getting on, and I feel far more prepared for meaningful conversation with someone about mental health than I would have in the past.
With a network of wellbeing champions, mental health first aiders and nine diversity and inclusion Belong groups, Scottish Water is leading the way in raising our awareness of the importance of positive mental fitness in the workplace.
We're encouraged to share and support each other - something that has helped me adopt a positive approach to mental fitness, and encourage others to do likewise.
Reflecting on this week's World Mental Health Day theme of 'mental health for all' has highlighted, for me, how far we've all come in recent years and the change of attitude towards mental fitness in my social groups and in the workplace.
Now, I treat my mental fitness like I do physical fitness, whether it's a chat with colleagues with shared experiences, or wellbeing champions and mental health first aiders sharing messages and signposting.
I find that mental fitness is never far from people's minds, and that's great for helping us to be at the top of our game, at work and at home. And when we're not, that's okay too.