BLOG: Leading the Way on Water Top Ups - Lorna Neilson
03 November 2020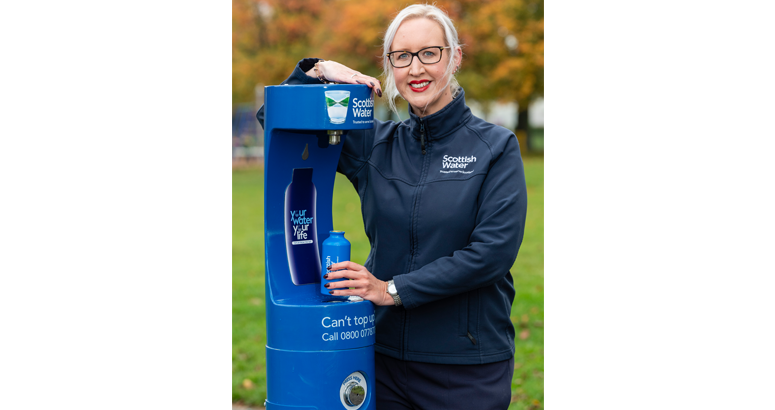 Top Up From The Tap
Lorna is passionate about ensuring people have access to clear, fresh drinking water 
I'm passionate about ensuring people have access to clear, fresh drinking water to help stay refreshed and hydrated when out and about, whether it's a walk in the park or at their local High Street. After all it's good for you, good for your pocket and most importantly good for the planet.
I'm pleased to say that Scottish Water has given me the opportunity to do just that as I lead the project to install water bottle refill stations across Scotland – our very own Scottish Water Top Up Taps (TUT). I've been fortunate to be involved with the Top Up Tap project from the very start in 2018, when we were first asked to trial 2 outdoor water bottle refill stations on the back of the David Attenborough documentary Blue Planet which made everyone sit up and listen.
The desire was definitely there from the Scottish Government, Local Council Authorities and Community Council Groups and before we knew it we had funding for 70. We've also seen the people of Scotland make a positive difference as they've saved over
250k plastic bottles by using our Top Up Taps
.
"The quality of our water and public health is our number one priority"

Lorna Neilson
Senior Project Manager
Each TUT records usage, so we're able to identify what type of site locations work. Primarily we focussed on busy thorough fares such as Buchanan Street in Glasgow, where we saw daily usage at the height of summer up to 100 litres with shoppers and commuters. Now, given the current environment we live in and people working from home, we have seen this decrease to around 30 litres a day.
In sharp contrast, we can see that more people are spending time doing recreational activities so our
TUTs at either end of the West Highland Way
continue to have a strong performance. The most popular TUTs are those within parks such as Callander Park in Falkirk and Calderglen Park each with around 400 litres a week.
The quality of our water and public health is our number one priority, which is why we initially turned off and covered up all of our TUTs in March in response to the national lockdown. With the easing of restrictions and the upsurge in people taking part in outdoor activities, we knew it was more important than ever to make our Top Up Taps available to provide people with free access to clear, fresh drinking water but in a safe in secure way.
By working closely with our public health and operational teams we were able to agree the way forward, this included the replacement of all internal parts, thorough disinfection and sampling prior to review by our Public Health team and being made operational again.
I also knew people might have concerns over using a TUT – would it be safe to use, especially in the current environment? After all you do need to press a button to dispense the water. That is why we're working with Mitie, to apply a product which provides an eco-friendly microbiota barrier coating to kill viruses and bacteria on contact and prevent cross contamination, lasting up to six months - we apply every three months just to be sure. In addition, the TUTs are cleaned and disinfected weekly by Mitie and sampled weekly by our Scottish Water samplers to ensure the integrity of the water provided.
We are on a journey in uncertain times but I believe our TUTs are a positive contribution to local communities to be able to provide free access to our nation's most precious resource – Scottish tap water – it's good for you, good for your pocket and good for the planet.