Scottish Water's Special Delivery for Islay
10 November 2020
A special delivery has landed on Islay to improve water services on the island and help enable affordable housing.
As part of our £2.5 million investment, a state of the art Transportable Treatment Unit (TTU) made its way under police escort across land and sea to its long term home at Torra Water Treatment Works (WTW) on the island.
This key element of the project was transported from Ross-shire Engineering's specialist factory in Muir of Ord - where it was built and partially commissioned off-site - which offers major advantages in the construction process.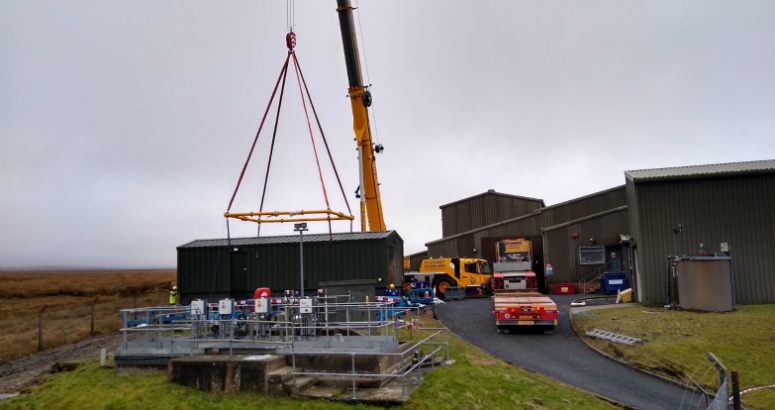 Special Delivery
The TTU is lowered into position at the water treatment works on Islay. 
"With the commissioning of this TTU, we'll be able to produce up to 70,000 additional litres of clear, fresh drinking water every day."

Anoushka Ainslie-McAlpine
Scottish Water Project Manager
It will provide capacity for an additional 70,000 litres of clear, fresh drinking water each day. This will boost supplies from the existing Torra WTW which currently provides approximately 810,000 litres of water to around 1,900 customers in the Bowmore and Port Ellen areas.
This significant investment is part of an ongoing programme of works for the island. Importantly, it will provide capacity to assist future housing developments similar to those currently under way in Imereval and Bowmore.
Scottish Water Project Manager Anoushka Ainslie-McAlpine said: "We're delighted to reach this important milestone in the delivery of our project to provide an improved water service for our customers on Islay. With the commissioning of this TTU, we'll be able to produce up to 70,000 additional litres of clear, fresh drinking water every day. This will provide resilience by lessening some of the strain on the local network, and reducing the risk for the need of additional water by tankers.
"I would like to thank Argyll and Bute Council and the local community for their collaboration and support to get these works under way. We will continue to work closely with them over the months ahead to deliver the long term benefits of our project for the local area, while minimising short term disruption as far as we can."
As part of these works, planning for a new pipebridge has also been approved and it will cross the River Torra north east of the treatment works. It will support a short section of the two kilometres (approximately 1.2 miles) of new raw water main that's being installed north of Torra WTW.
It is expected that the TTU will be operational from spring 2021, once the installation of the new raw water main, which is being carried out by Colin Logan Contractors Ltd., has been completed.