Primary School Pupils Walk the Walk
13 November 2020
Pupils at Dunard Primary School in Glasgow's West End swapped their classroom for the great outdoors to visit the ongoing multi-million pound River Kelvin investment project.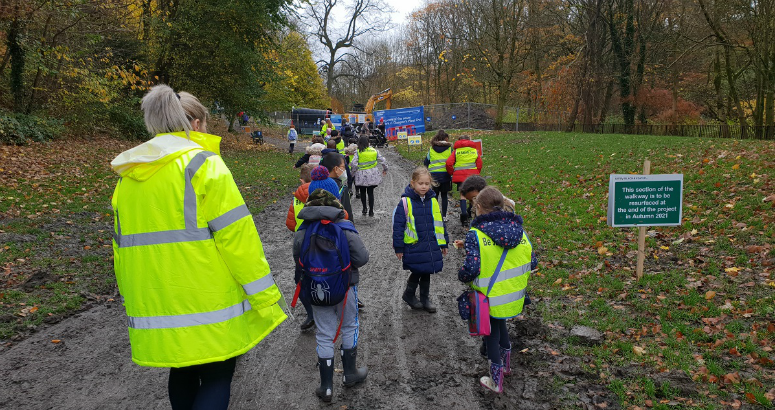 Walking the Walk
Pupils from Dunard PS visited the River Kelvin Walkway and heard all about our environmental investment project.
The class walked the Kelvin Walkway and visited a work site with one of the project team from amey Black and Veatch (aBV) - our alliance partner who is delivering the project – to learn about this £15 million project to improve the environment and water quality in the River Kelvin.

Paul Milligan, aBV communication manager, said: "It was fantastic to get out with the children, socially distanced of course, and tell them all about how our work here will help make their local environment much better. It also provided the opportunity to get a really important message across to them about only ever flushing the 3Ps down the toilet – that's Pee, Poo and (toilet) Paper.
"The new infrastructure being built during this project will help prevent any items which are wrongly flushed down the toilet – items like rags, baby wipes, plastic cotton buds, etc. - from overflowing into the River Kelvin during severe storm events and reduce the frequency and volume of waste water spillages in storm conditions."
The installation of new and improved waste water infrastructure, including underground Combined Sewer Overflow (CSO) chambers and upgraded pipework, spans eleven sites along the Kelvin Walkway.
The project is now over half way towards completion.
Discover More