Scottish Water Supports Road Safety Week 2020
16 November 2020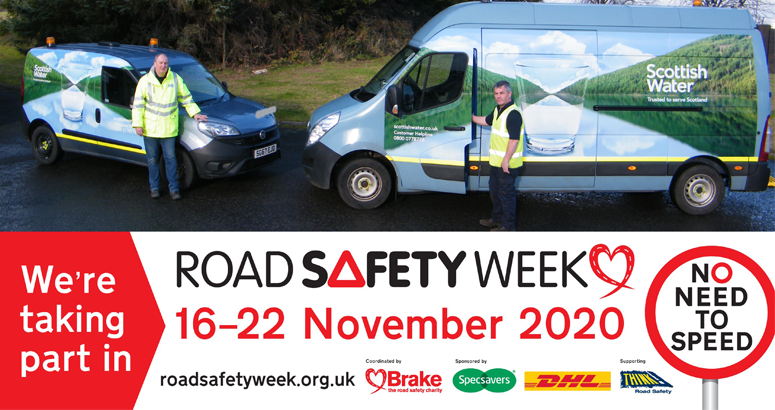 Road Safety Week 2020
No Need To Speed
Road Safety Week
, from November 16 to 22, is the UK's biggest road safety event, coordinated annually by the road safety charity Brake.
Scottish Water, which has 1787 van and Heavy Goods Vehicle (HGV) drivers and 4364 drivers in total (including grey fleet and lease cars), is again taking part in the event.
Road Safety Week aims to inspire thousands of schools, organisations and communities to take action on road safety and promote life-saving messages during the week and beyond.
It also provides a focal point for professionals working in road safety to boost awareness and engagement in their work.
Every year, Brake choose a different road safety theme to focus on and the theme for 2020 is NO NEED TO SPEED.
Scottish Water's Road Safety Week this year will be all virtual and based around five "Brake and Learn" sessions on Microsoft Teams lasting about 45 minutes each.
David Milne, Driver Safety and Performance Team Manager in the Customer Vehicles Team, said: "Take up for the sessions has been amazing with well over 200 members of staff interested.
"Those contributing to the sessions include a relative of a fatal road crash victim who will speak about the impact it had on the victim's family, Brake representatives, and a few Police Scotland videos around getting your vehicle ready for winter as well as road safety questions and a week-long quiz.
"There are a number of operational operatives who have signed up so hopefully their learning will be converted back onto the road network.
"We're really looking forward to the Brake and Learn sessions and we're sure they will be very interesting and useful for everyone taking part."
Scottish Water has been shortlisted at this year's Brake UK Fleet Awards for the Public Sector Driver Safety Award.