BLOG: Keeping Scotland's Water Services on the Road - David Milne
20 November 2020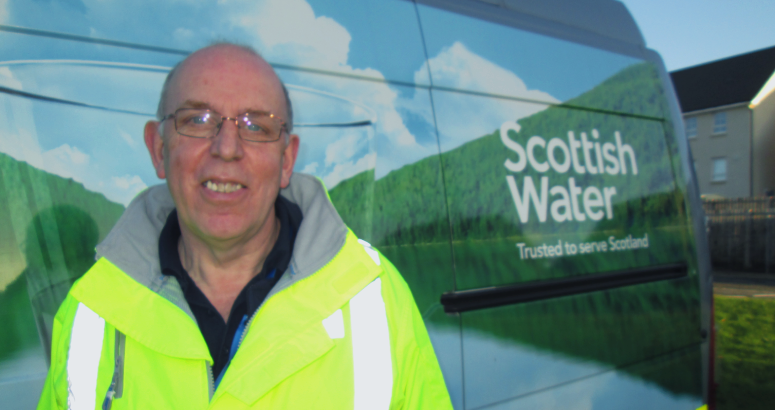 Road Safety
Pictured: David Milne, Driver Safety and Performance Team Manager, Customer Vehicles Team
"Safety underpins everything we do at Scottish Water - and safety on the roads is part of that ethos."

David Milne
Driver Safety and Performance Team Manager
Our fleet of vehicles is one of the most recognisable on Scotland's road network. From small vans to HGV-class tankers, our employees – more than 4000 of them – frequently make journeys, long and short, to help keep Scotland's water and waste water services running.
That's why it's important that a public service like ours embraces road safety and supports awareness-raising events like Brake Road Safety Week, which runs from November 16-22.
Safety underpins everything we do at Scottish Water – and safety on the roads is part of that ethos.
As part of this year's
Road Safety Week
we've offered Brake and Learn on-line sessions for our employees. Normally these would be carried out in person but due to restrictions we've conducted them virtually.
From Shetland to Stranraer, and Stornoway to Selkirk, more than 400 people have taken part – we've reached a wider audience than we might normally have done in location-based sessions.
The inputs were provided by Scottish Water, and our partners at Brake, the Road Safety Charity, and Police Scotland. There was also an impactive video with an interview with a Brake supporter whose daughter was killed in a high speed collision in 2013. This video was made solely for Scottish Water's purpose.
Despite some of the limitations of the on-line settings, there's been good interaction with the audiences and good feedback following the sessions. Of course, an awareness-raising week is just that – a week when we highlight the risks and how to drive safely for all road users. The No Need To Speed message will apply amongst our staff, not just for a single week, but 52 weeks of the year. Our staff can now share some of the points with friends and take the message wider than Scottish Water.
We regularly assess every incident on the road which involves a Scottish Water driver or vehicle. It's pleasing to note that during the latest round of analysis, speed has not been a root cause.
It's with great pride that we have also been nominated in the Public Sector Driver Safety category at the Brake UK Fleet Champions Awards.
To have our approach to safety recognised in this way sends out a really positive message to our employees and our customers.