Top Up from the Tap at Rouken Glen Park
15 December 2020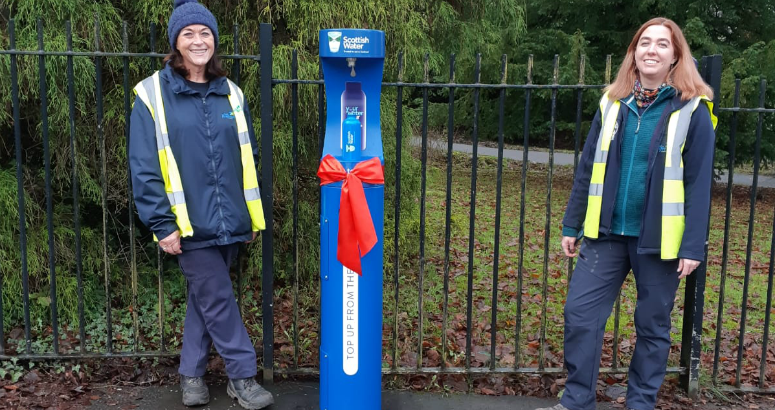 Stay Hydrated
Park Rangers at Rouken Glen helped launch 31st Top Up Tap at the entrance near the Boathouse Cafe.
"Rouken Glen provides a safe space for fresh air and exercise, so I am pleased that this free water facility is now in place.
"

Councillor Alan Lafferty
East Renfrewshire Council
Staying hydrated is easy for visitors to Rouken Glen Park with the launch of Scottish Water's 31st Top Up Tap at the popular East Renfrewshire park.
Located near to the Boathouse at the Davieland Road park entrance, the public water refill point means park users can top up with fresh, great-tasting Scottish water and stay hydrated on the go.
Georgina Reid, Scottish Water's corporate affairs regional manager, said: "We're pleased that one of our Scottish Water Top up Taps has joined a long list of facilities already on offer at this much-loved park. The tap is free to use and we're encouraging everyone to make the most of it– all they need to do is remember their reusable water bottle.
"Topping up from the tap benefits health and wellbeing, saves money, and helps reduce waste and its impact on the wider environment. We hope that everyone enjoys it!"
The introduction of Top up Taps across the country is part of Scottish Water's Your Water Your Life campaign which is urging the public to make tap water their first choice and encouraging everyone to make a reusable bottle part of their everyday life.
Katy McGregor an Activity Ranger and Linda Logan a Park Ranger at Rouken Glen Park was delighted to help officially launch the tap and hopes it will be well used by park visitors.
East Renfrewshire Council's Environment Convener, Councillor Alan Lafferty, said: "This is a really great addition for everyone who visits Rouken Glen.
"The park welcomes hundreds of thousands of people annually and this year it played an even more important role in providing people a safe space for fresh air and exercise, so I am pleased that this free water facility is now in place.
Scottish Water aims to deliver 70 public space water refill points by the end of March 2021.
Additional safety and cleaning measures have been put in place on all Top up Taps as a result of the ongoing Covid-19 pandemic. This includes deep-cleaning, disinfecting and maintenance, as well as a special coating on the entire refill station which stops any virus and bacteria being absorbed.