BLOG: Why I Became I Mental Health First Aider - Mechelle Barbour
04 February 2021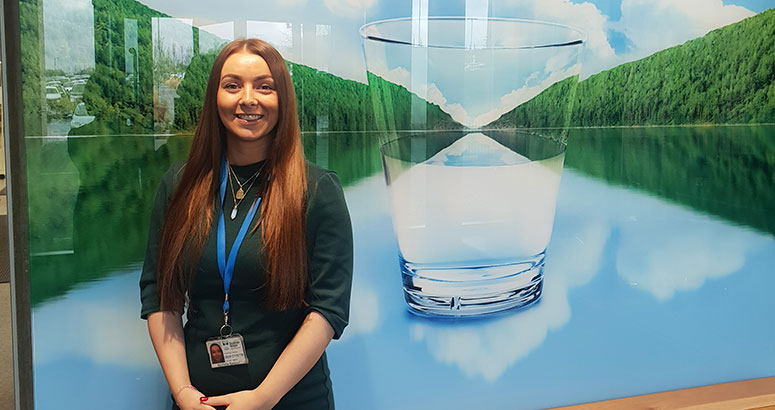 Supporting #TimeToTalkDay2021
Pictured: Mechelle Barbour, Learning and Development Officer and Mental Health First Aider
"We all experience struggles in life and it can be easier talking to someone who is not family or who you directly work with."

Mechelle Barbour
Mental Health First Aider
We support #TimeToTalkDay2021 to urge people to start conversations about mental health and help end the stigma. Mechelle Barbour, Learning and Development Officer, talks about why her own struggles prompted her to join a network of Mental Health First Aiders (MHFA) at her workplace, Scottish Water.
I'm a naturally anxious person and have struggled at times with anxiety, low mood or generally just feeling a little lost in life. In the last five years I have really focussed on my mental wellbeing and reached out to a Life Coach for help. It was invaluable. I started to talk about how I felt more and implemented healthy strategies to live a happy, fulfilled life. I changed my diet, started daily exercise and began to challenge my thoughts and take time to look inwards and become more self-aware.
When I learned Scottish Water was looking for staff to be Mental Health First Aiders I jumped at the chance. I saw this as an opportunity to make a difference and truly help people. We all experience struggles in life and it can be easier talking to someone who is not family or who you directly work with. You spend most of your time at work and to have people you can reach out there is invaluable. People in the same organisation will have some shared learning and sometimes that can be a great help if people have work worries. Many times it is having someone to talk to, who listens without judging and who understands. At times when someone is struggling they may need to gain a new perspectives or get strategies, or support and to talk things out. We guide people to any relevant help they may need this might be looking up our health support services or encouraging them to see their GP or even. And sometimes it might even be meeting for a chat over a wee cuppa!
Sometimes people might feel anxious about approaching a MHFA for fear it's not confidential. We never identify anyone we speak to and all went through comprehensive training with NHS Scotland Mental Health Team. What I have learnt is we are all human and mental health is as important as physical health. I'm all for giving people the time and supportive space to talk as it could be the turning point of how someone feels that day and beyond.. I think sometimes people might think because I'm young (30 is the new 21!) that I may not understand situations as much if I've not experienced them. But I don't think it's about what someone has experienced - it's about that person and their individual situation and what can help support you. A good listening ear and a positive and caring attitude goes a long way and think these are key skills to being a MHFA and I think every workplace should have them.