BLOG: Karen Rae - Celebrating Women in Science
11 February 2021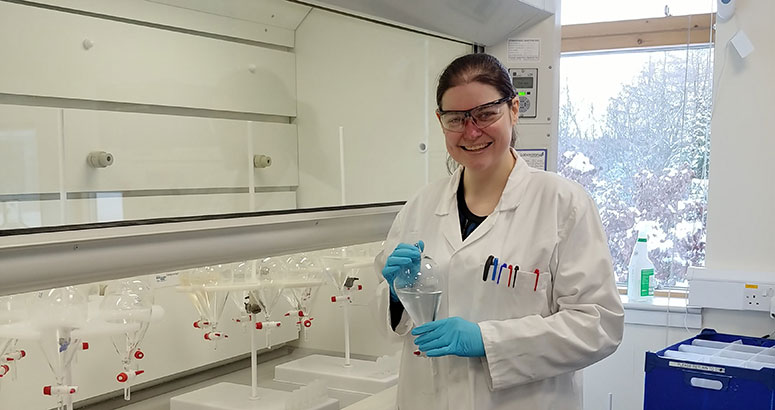 International Women in Science Day
Karen Rae is a Team Leader in the organic chemistry laboratory
"Study the subjects that interest you and don't listen to people who say science is hard."

Karen Rae
Team Leader, Organic Chemistry Labs
I am a team leader in the organic chemistry laboratory at Scottish Water, I have been with the company for 14 years now. My job involves using Gas Chromatography and Liquid Chromatography to analyse clean and wastewater samples to determine the presence of chemical compounds such as Pesticides, Petrol, Diesel and other environmental contaminants.
I didn't even really consider a career in science when I was at school, I was much more interested in languages. I did however always enjoy chemistry and doing experiments. I took advanced higher chemistry just because it was fun, and I got the chance to do lots of interesting experiments. When I was applying to universities, I put in an application to do Chemistry at Heriot Watt alongside other subjects at other universities I had no idea what I wanted to do. I decided that I would quite like to give chemistry a go because I had always enjoyed it. I love being in the lab I always have it is like cooking but with more unexpected and interesting results… although you don't get to lick the spoon.
I completed my degree in Chemistry at Heriot Watt where I specialised in colour chemistry and wanted to start a career in the dyes and pigment industry. After working in retail for a couple of years I had given up hope of finding a job in chemistry, but I saw an opening at Scottish Water and put in an application. I was hired as an assistant scientist and immediately loved working in a lab. The work is routine but there are always chances to be creative and develop new methods or making improvements to ways of working. I have had so many opportunities to develop myself at Scottish Water attending conferences and being involved in projects for new developments in Chemistry, also learning all about the water industry. There is also a supportive team in the labs, and lots of women, we all work hard to help each other. Having a career in Science has been a good decision for me because even now I still love working in the lab and learning science.
My advice for girls wanting to follow a STEM career is to study the subjects that interest you and don't listen to people who say science is hard. It is only hard if you don't like it and don't want to put in the effort to learn it.