Scottish Water Battling Elements to Maintain Normal Supplies
11 February 2021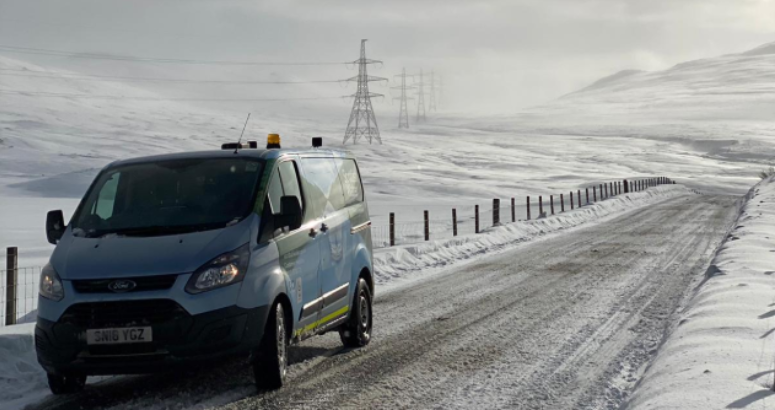 Challenging Conditions
Staff the length and breadth of the country are working around the clock in challenging weather conditions 
"We are experiencing a number of very challenging circumstances but we are rising to those challenges and our dedicated and determined staff are using all the resources, equipment and technology available to ensure that, wherever possible, it's business-as-usual for our customers"

Kes Juskowiak
Operations General Manager, Scottish Water
Scottish Water workers are battling against the elements across the country to ensure we maintain normal services to customers or restore them as quickly as possible if there has been disruption.
Staff the length and breadth of the country are working around the clock in challenging weather conditions – with heavy snow and temperatures as low as -17C – to keep water supplies to customers running and our waste water network operating normally.
In communities large and small across the country, the number of burst water main repairs carried out in the past week has doubled compared with normal levels at this time of year.
Engineers worked in sub-zero temperatures to restore supplies to about 29,000 properties in the East End of Glasgow on Wednesday after a burst on a 36 inch trunk water main in Gallowgate.
The burst happened late yesterday afternoon but Scottish Water worked as quickly and efficiently as possible and were able to start restoring normal supplies by early evening after isolating the damaged section of main.
At Kinlochbervie in Sutherland, a team of divers worked in the freezing waters of the local reservoir, Loch na Claise Carnaich, to clear an intake of ice and bring the local water treatment works, which serves almost 200 properties in the area, back into production on Tuesday.
In some parts of the country where bursts on water mains or pipes have occurred, or intake pipes at reservoirs have become frozen, we have tankered water into the local networks to ensure customers' supplies are not disrupted.
Our teams have been out breaking ice at intakes in other areas such as the Western Isles, Skye and Lochaber and, where the ice has been too thick to break, using tankers to bring additional water in and maintain normal supplies.
In parts of the country where burst water mains have threatened normal supplies, we have rezoned the local networks and put backfeeds in place to avoid any disruption or inconvenience to customers.
Heavy snowfall has also created challenging issues for accessing a number of water treatment works, some in very remote locations, and we have had to employ contractors to clear access roads.
Scottish Water's work has often been carried out in very poor conditions with heavy snow sometimes making it difficult to locate bursts.
Freezing temperatures, coupled with the need to maintain safe distancing and adhere to other Covid-19-restrictions, have also made the work more challenging and time-consuming.
We have dedicated teams of people continuing to work for our customers and, in the past week, they have repaired more than 340 bursts, which is double normal levels.
Kes Juskowiak, Scottish Water's Water Operations General Manager, said: "Like all essential public service providers, the weather is certainly making our job more difficult but we are doing absolutely everything possible to ensure normal supplies are maintained wherever we can.
"We are experiencing a number of very challenging circumstances but Scottish Water is rising to those challenges and our dedicated and determined staff are using all the resources, equipment and technology available to ensure that, wherever possible, it's business-as-usual for our customers."
Meanwhile, Scottish Water is reminding householders and businesses across Scotland to ensure water pipes on their property are protected during the winter to prevent burst pipes and flooding in freezing temperatures and reduce the risk of damage to properties and contents.
The public water and waste water organisation advises anyone with a home, business premises or holiday home to take action to heat, insulate and protect their properties, whether the property is old or new.