NHS Lothian Reminded to Top Up on the Go
04 March 2021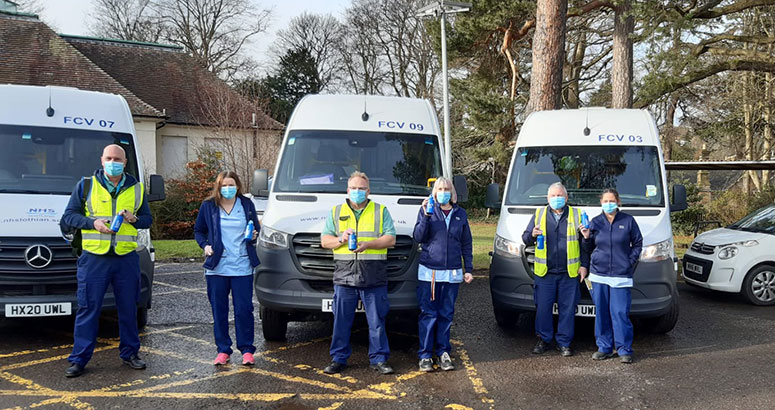 Helping the NHS to Top Up from the Tap
Scottish Water donated metal water bottles to NHS Lothian  homecare staff
Staff at NHS Lothian are being reminded to stay hydrated at work and have been gifted water bottles to help them top up from the tap on the go. Scottish Water donated metal water bottles to NHS Lothian homecare staff who travel around the region visiting patients in their homes.
The utility has teamed up with Health and Wellbeing in the Workplace champions at NHS Lothian and will work together to promote the benefits of drinking tap water.
Amanda Langsley, Associate Director of OD & Learning and Wellbeing Champion at NHS Lothian said: "It is vital we look after our staff's wellbeing and ensure they are able to provide high quality care, which starts with their own health and well-being. Over the past year we have been working hard to increase the wellbeing support across NHS Lothian and this is yet another small step in the right direction.
"When our staff are so busy focusing on our patients it's easy to forget about their own wellbeing which includes drinking enough water to keep them going. These water bottles will encourage these staff members to stay hydrated during their shifts. Thank you to Scottish Water for the kind donation."
Scottish Water is running a national campaign urging people to Top Up From The Tap reminding people it is great for health, your pocket and saves on single use plastic.
Scott Fraser, Communities Manager at Scottish Water, said: "NHS staff do a brilliant job and work long shifts and the ongoing Covid pandemic means they are busier than ever. We all know it can be easy to forget to drink plenty water to stay hydrated and we hope these bottles will remind staff who get them to top up on the go. It is also a small thank you from us for their tireless work.
"Here in Scotland we have some of the best drinking water in the world – its tastes great and it's good for us. Water makes up two thirds of our body, so it is vital we stay topped up all the time including when we are at work."
Scottish Water will continue to work with NHS Lothian to promote hydration messages to staff, patients and visitors. Signs you are not drinking enough water include a dry mouth, tiredness, lack of concentration, fatigue, dry skin or scalp, headaches, dizziness, and constipation. People are urged to drink between 6 to 8 glasses of water every day.
For advice on staying hydrated go to: nhsinform.scot/campaigns/hydration