New PSR Scotland service launched to promote priority services
01 April 2021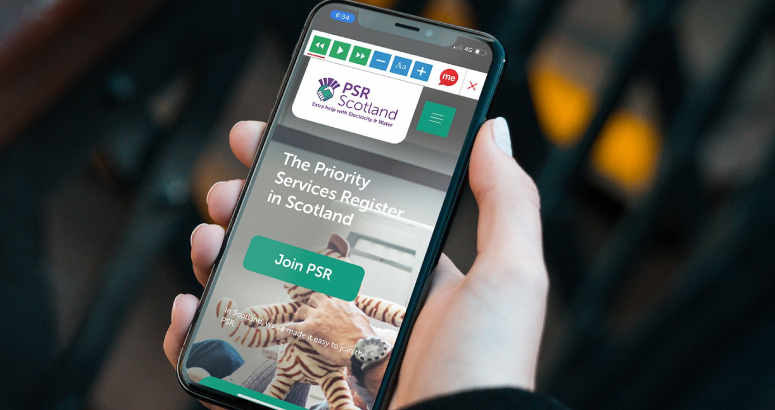 Priority Services Website
Raising awareness of the additional support available nationwide
"Scottish Water is excited to work on this project in partnership with both electricity network operators in Scotland. It will help ensure customers who may have additional support requirements are aware of the help available to them."

Kevin Roy
Customer Service General Manager, Scottish Water
Scotland's electricity distribution and water networks have joined forces to launch PSR Scotland, an innovative partnership to inform customers of the free support available when they need it most.
With the launch of the new PSR Scotland website, customers across the country now have a one-stop-shop where they can learn more about the free help available in their individual area, with links straight to the specific pages on each company's website to make the registration process as simple as possible.
Scottish and Southern Electricity Networks (SSEN) Distribution, SP Energy Networks (SPEN) and Scottish Water, have each been running their own Priority Services Registers (PSR) for several years, offering free support to customers during a power cut or an interruption to local water supplies.
Customers are eligible to register if they: are deaf or hard of hearing, have a disability, live with children under five, are blind or partially sighted, have a chronic illness, are over 60, depend on electricity or water for home or medical care, or feel they may need additional support, even for a temporary period of time.
The new service will make it easier than ever to raise awareness of the additional support available nationwide, encouraging sign-ups from customers who may be eligible but are not yet registered for priority services.
SSEN Distribution owns and operates the electricity infrastructure north of the central belt and SPEN is responsible for the electricity network in central and southern Scotland, while Scottish Water manages the nation's water and waste water services.
To learn more about the free help and support that is available in your area and check if you are eligible, visit the new PSR Scotland website at
PSRScotland.com
.
Simon O'Loughlin, SSEN's Consumer Vulnerability Lead, said:
"We're pleased to work in collaboration with SP Energy Networks and Scottish Water to support customers who would benefit from extra help or adapted services. This partnership provides a clear, one-stop-shop for anyone who needs additional support from their electricity or water utilities, no matter where they live or who they pay their bill to.
"At SSEN, we're always looking for new ways to support our customers when they need us most. The idea for PSR Scotland came about following engagement with our stakeholders and we're delighted the new service will inform people of the free help available from the nation's electricity and water networks."
Jennifer Davies, SP Energy Networks' Social Obligations & Customer Experience Manager, said:
"Supporting customers when they need it most is one of our top priorities and we're pleased and proud to be part of this project with SSEN and Scottish Water. PSR Scotland will make it easier than ever for people to find out about the help available and register for the support they need.
"Being on the Priority Services Register really does make a difference and will give comfort and reassurance to customers that we will be there to provide extra help and support when they need it most. We would encourage everyone to visit the PSR Scotland site and check if they're eligible to sign up."
Kevin Roy, Customer Service General Manager at Scottish Water, said:
"Water is vital to everyone's lives, however we appreciate some customers rely on it more than others. Scottish Water is excited to work on this project in partnership with both electricity network operators in Scotland. It will help ensure customers who may have additional support requirements are aware of the help available to them."
Kate Morrison, Citizens Advice Scotland, Strategic Lead – Markets, said:
"Priority Services Registers provide vital services for people in vulnerable situations across Scotland. Citizens Advice Scotland welcome SSEN's proactive approach to developing PSR Scotland. This type of integrated approach across sectors to simplify registration is very welcome and aligns with our thinking outlined in our 'Making it Easy' report. We encourage everyone to have a look and see if they or someone they know might be eligible."