Scottish Water driving greener future on region's roads
19 April 2021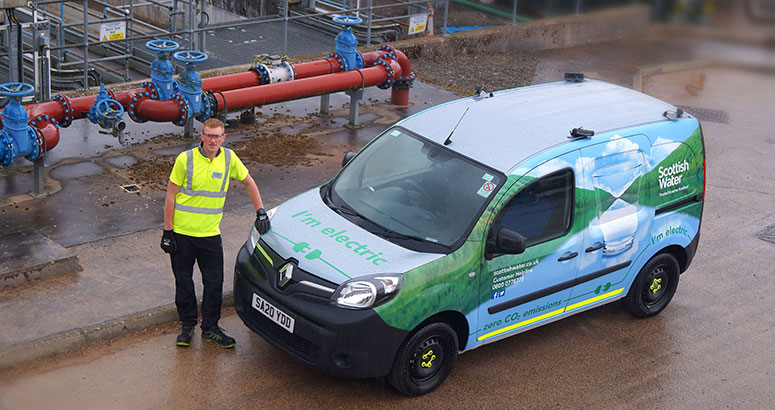 Electric-Powered!
The newest and greenest addition to Scottish Water's vehicle fleet
The newest and greenest addition to Scottish Water's vehicle fleet has taken to the roads in Dumfries and Galloway to help reduce carbon emissions.
A fully electric-powered Renault Kangoo is now being used by Waste Water Process Scientists in the region to fuel green energy benefits.
The vehicle has been in use for a few weeks now and with a range of between 80 to 140 miles per charge, it is proving to be the perfect addition to the fleet. By not having to top up at the petrol pump using the van is helping protect the environment.
Jamie Hesketh, a Process Scientist at Scottish Water based in Dumfries, has been using the electric van. He said: "It is great that we are now maintaining high quality water standards as well as contributing towards a reduction in carbon emissions.
"I cover up to 200 miles a week going between waste water treatment sites across Dumfries and Galloway. Knowing I am in an electric van now and not emitting any pollution and so doing a wee bit to protect the planet is a good feeling.
"It's also fun to drive as I'd never been in a fully electric vehicle before. I worked out I get an average 90 miles out of a single charge. The 60bhp (brake horsepower) motor is powerful enough and it's very quiet. There's plenty of space for all the equipment we need to carry."
Jamie is able to charge the van at his home address or any Scottish Water site in the region with a standard power socket and the Utility is installing fast electric power chargers throughout the region for staff to use.
The Waste Water Process Science Team have frontline involvement in monitoring waste water treatment compliance and providing operational, scientific and technical support on the utility's assets when needed.
Scottish Water currently has 12 electric pool vehicles used by staff across the country. It will continue to update and replace its commercial fleet with electric vehicles when it is economic and operationally viable to do so. The utility is currently looking at opportunities to transition small and medium diesel vans to electric.
Elaine Pringle, Fleet Manager at Scottish Water, said: "We are still in the fairly early stages of our transition to electric vehicles, like this one, and every step taken to reduce our carbon footprint and help combat climate change is important.
"Scottish Water aims to remove all petrol and diesel cars from our fleet by 2025, phase out the need for petrol and diesel light commercial vehicles by 2025 and all new commercial vehicles by 2030.
"We look forward to seeing these vehicles in action across our operational teams and welcome the contribution they'll make towards Scottish Water achieving its organisation wide pledge of net zero emissions by 2040."