Community Asked to Help Put the Flow Back in St Leonard Park
02 June 2021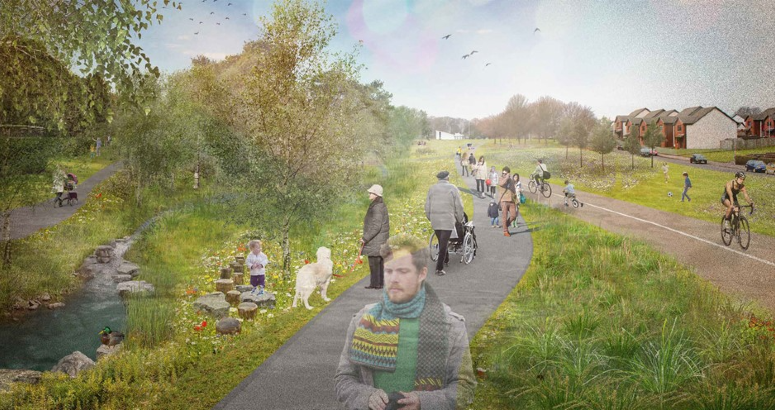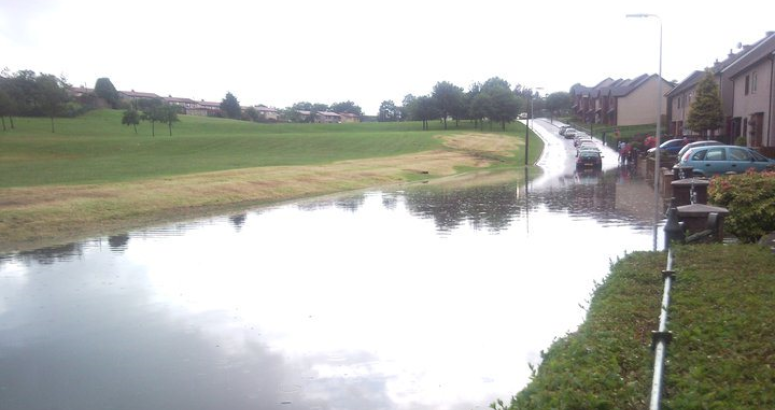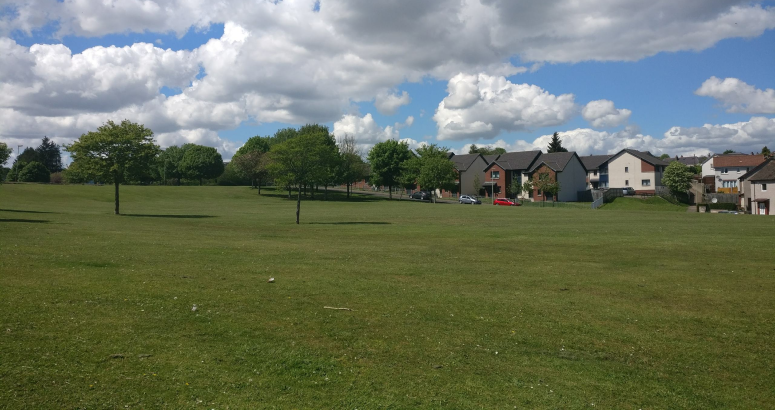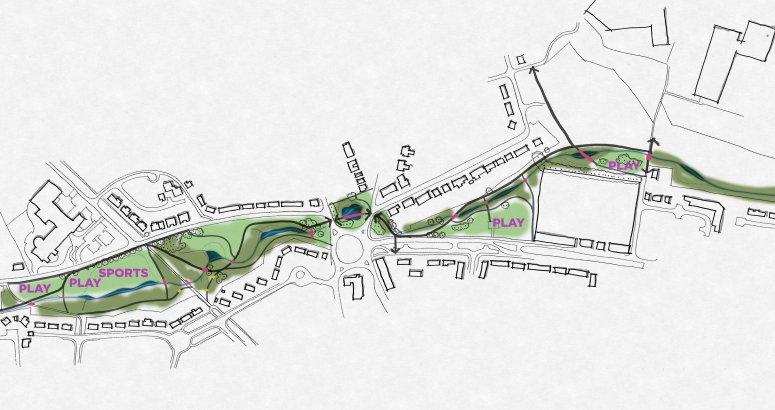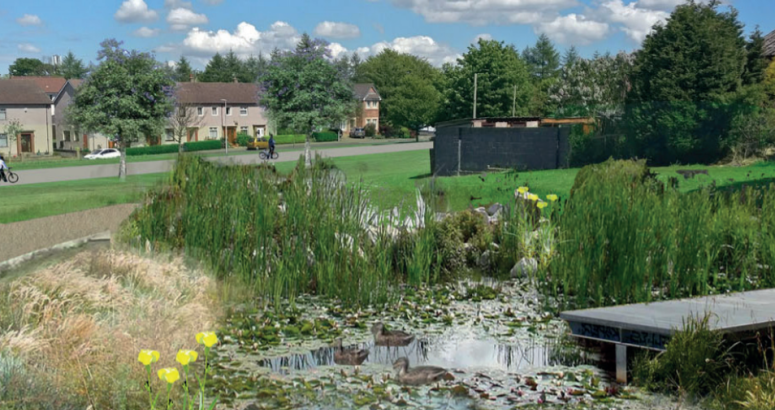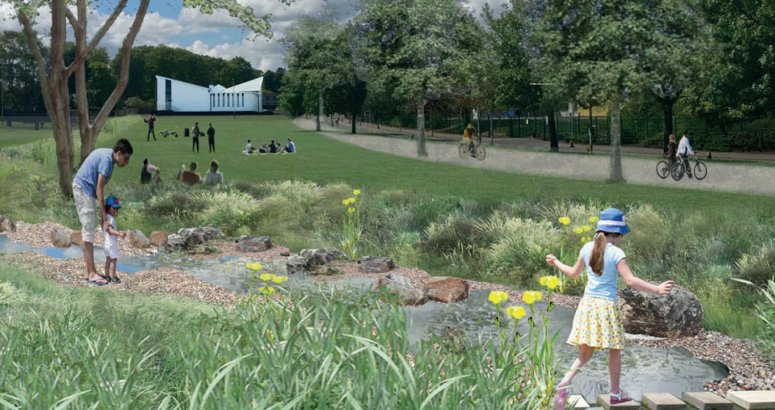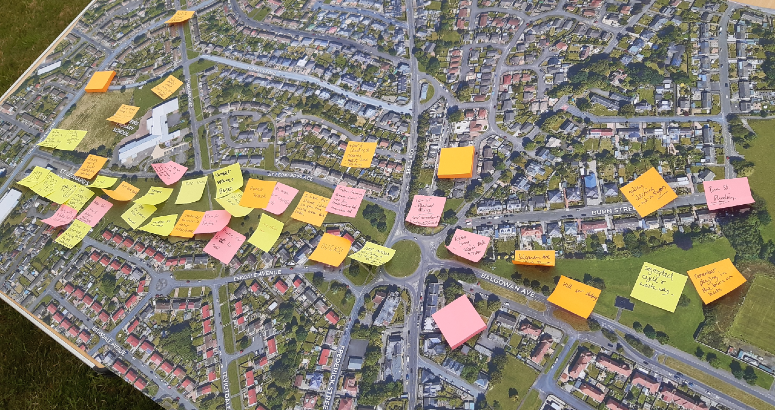 St Leonard Park - present and future?
The park as it is today, regularly affected by flooding, and some early ideas for the future
"This is an amazing chance to help redevelop our local green space to make it better for our kids and for everyone in our community."

Eddie Baines
Community member of steering group
Residents of a Dundee community are being urged to get involved in early proposals which could see water and wildlife brought into the heart of a local green space, with improved opportunities for play and recreation as well as cycling, walking and wheeling.
Scottish Water, NatureScot and the Scottish Environment Protection Agency (SEPA) are working in partnership with Dundee City Council to develop an exciting project to improve the way storm water is managed in St Mary's, to reduce flood risk and provide a more multi-functional green space for the community. They are asking residents to help shape early proposals and ensure that the wider potential benefits for people who live and work in the area can be realised.
The initial proposals are centred on St Leonard Park and part of Balgowan Avenue Park, extending from St Leonard and St Fergus' Church on Macalpine Road to Baldragon Academy on Harestane Road. A key element is to bring back the Back Burn which originally flowed through the area to join the Dighty Burn, until it was diverted underground over 50 years ago.
A drop-in event is being held for local residents between 2pm and 7:30pm on Thursday 10th June in a large open tent which will be put up behind St Leonard and St Fergus' Church on St Leonard Place. Covid-safe measures will be in place and all are welcome to attend to find out more, comment and contribute ideas.
Local resident and Vice President of Abertay University Students Association Eddie Baines is one of three representatives of the local community who are involved in the project's steering group. Eddie said: "Our green spaces are hugely important and all too few. We've got to make the most of them but, at the moment, a large area of the park is waterlogged for a significant part of the year and unusable for things like exercising, playing or dog-walking.
"There's a great opportunity to do something positive about that, and to make other improvements too, but it's vital for local people to get involved. If we can shape the plans and take ownership of the opportunities that exist, we can come together to look after the area better than the council can.
"Everybody's input is important at this stage. There are lots of great ideas to consider, but if people don't agree with any of them, we need to hear that - and more ideas are welcome. This is an amazing chance to help redevelop our local green space to make it better for our kids and for everyone in our community."
The potential changes to St Leonard Park are the first stage of a wider storm water strategy for the area which has been developed in partnership by Dundee City Council and Scottish Water.
Scottish Water's Director for Strategic Customer Service Planning, Simon Parsons said: "The climate crisis is already bringing more frequent intense downpours, which can overwhelm drains and sewers, causing flooding at St Leonard Park, elsewhere in Dundee and in communities across Scotland.
"To reduce flood risk, lower carbon emissions and enable communities to grow, we have to manage storm water differently – not just in new developments, but also by creating natural landscapes to capture rainwater where possible within the community.
"There is a real opportunity for the benefits to go far beyond better drainage. The pandemic has brought home to everyone the value of local green space for people to play, exercise, get around and connect with nature. We want to play our part to enable the community in St Mary's to shape the park as a well-used and valued space that meets their needs and supports their ambitions for the future."
Councillor Mark Flynn, convener of Dundee City Council's city development committee said: "This project in St Mary's is the first stage of a new approach to managing surface water in the city, developed in partnership with Scottish Water, NatureScot and SEPA.
"As well as enhancing an existing green space, by finding new solutions to flooding and getting surface water out of the sewer system, it will enable development of brownfield sites where otherwise that could be very challenging. That benefits the whole city including people who need a quality home and those employed in construction. Together we can make Dundee a more vibrant and attractive place where people choose to live, learn and work."
Further information about the proposals and the opportunity to contribute comments and ideas online for anyone who cannot attend next week's event are available at
www.scottishwater.co.uk/StMarys
.