Popular City Park's New Top Up Tap Unveiled
08 June 2021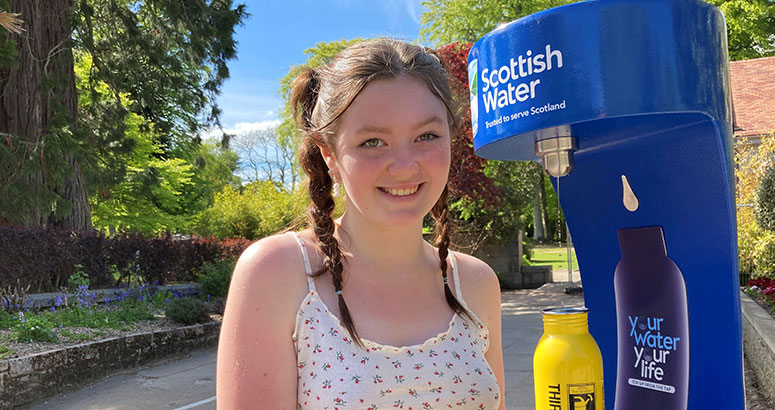 Hazlehead Park Top Up Tap Unveiled
Poppy Banks tops up at our latest tap
"It's superb to have this in our local park. I drink lots of water on the go, not just on hot days, and anything that makes that easier is great"

Poppy Banks
Local park visitor
Visitors to Aberdeen's Hazlehead Park can now top up with fresh water on the go at new free refill tap.
Scottish Water has installed the new tap in the popular west end park as a part of a drive encouraging people to carry reusable bottles to stay hydrated, protect the environment by reducing waste and save money.
The blue tap, which is located near The Park Café, is the city's second Scottish Water free refill point.
Gavin Steel, corporate affairs manager at Scottish Water, said: "It's fantastic to have this new tap in this popular park used by so many different people and groups. We're encouraging everyone to make the most of this free refiil point and urging people to remember take a reusable water bottle to easily top up at the tap.
"Drinking water from a refillable bottle is good for your health, good for the planet by helping reduce the volume of single-use plastic - and it's good for your pocket too.
"Studies show a growing number of people are starting to carry refill bottles with them to stay hydrated and these taps make it easier for them to do this when out and about."
Thirteen-year-old Poppy Banks, who lives near the park, was one of the first to use the new tap. She said: "It's superb to have this in our local park. I drink lots of water on the go, not just on hot days, and anything that makes that easier is great."
Councillor Philip Bell, Aberdeen City Council's Operational Delivery Convener, also welcomed the tap. He said: "We are blessed with some hugely popular green spaces in Aberdeen and none more so than our wonderful park at Hazlehead which has been enjoyed by Aberdonians young and old for generations. We were only too happy to give planning consent to Scottish Water for a feature which enhances this lovely corner of Aberdeen for visitors from near and far."
The taps all have tracking devices which record the amount of water they give out at each location.
Since the first Top up Tap was launched more than 170,000 litres of water have been consumed from Scottish Water's expanding network of the refill points across the country.
Scottish Water launched a top up tap in the city's St Nicholas Street in 2019. It will soon have 50 of the taps in the ground at sites including harbours, beaches, national parks, botanical gardens and other top tourist attractions.
More information about our Your Water Your Life campaign at: Your Water Your Life