Record-breaking water worker wins award for his charity hike film
12 June 2021
A stunning short film capturing the highs and lows of one man's record-breaking 864 km solo hike along the arduous Scottish National Trail has won a prestigious award.

Matt Girvan's 20-minute film covers the moment he set off from Kirk Yetholm, near the English border, and follows his journey north through the Borders, Central Belt, Cairngorms and the very remote far north-west before finishing at Cape Wrath.

He kept a film diary to "keep his mind active and focused" and capture the beauty of the locations he visited, while recording the raw emotions he was feeling throughout his mega hike.

After shaving three days off the previous record to complete the trail in just under 14 days he edited eight hours of footage to produce his tell-all film, Dawn till Dusk.

It has scooped the Best Solo Film Award at the New Zealand Mountain Film Festival and will be screened at a five-day-event later this month before being part of national tour of New Zealand, where Matt grew up.

Commenting on why they picked Matt's film the judges said they were" impressed he had made the time and had the energy to collect high quality footage during such an ambitious solo adventure" and branded his work "inspiring".
Matt, 29, who now lives in Edinburgh, said: "It was really a dream come true just to be included in the festival – it never occurred to me that I might be in the running for an award."

"It's been amazing to now have the film as a way to share my solo adventure with more people. So many people have mentioned how they really felt immersed in the film, like they were there with me on the trip and I was just chatting away to them. It gave them a real feel for what I was going through – you can see from the look on my face the strain that 40-mile days were putting on my body.

The documentary includes footage of Matt coming close to giving up his charity hike due to fatigue and excruciatingly painful feet and has shots of him wild camping in the rain (very near his cosy flat in Edinburgh), squelching through endless miles of marshland and running over rough and bleak terrain in the dark. You also see how much he has to carry on his back – an extra nine kilograms.

But it also captures Matt's joy when he is able to tuck into an ice cream and a hot meal – for his birthday – and when he finds a dry place to sleep for the night. It also captures the moments before he breaks the fastest known time for the trail, and how he is too exhausted to really appreciate the enormity of his achievement when he reaches Cape Wrath at 1am on 25 September last year.

And after the "best night's sleep ever" at the small visitor centre at the Cape Wrath Lighthouse you see him put on his hiking shoes once more to hike the 16 miles back to Kinlochbervie to get the train home.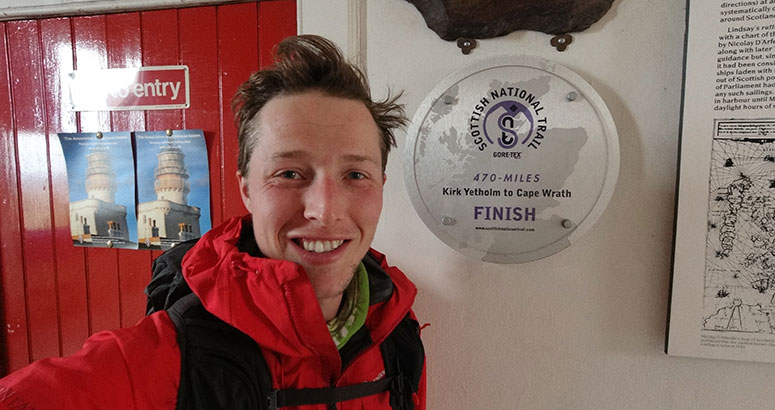 Matt at the finish in Cape Wrath
Matt reached Cape Wrath at 1am on 25 September 2020
"

Thank you Matt, you've showcased the Scottish National Trail in a way that will, I have no doubt, inspire many, many others.

" Cameron McNeish
Mountaineer
Ultra runner Matt said: "Getting to see all that wild Scottish scenery was a real highlight too. I remember a stunning evening near Fort Augustus – I crossed over the Corrieyairack Pass just in time to see the sun setting behind all the mountains to the north that I'd be walking through next.
"It was amazing to really test myself to my limits too, and to attempt something when I thought I had at best a 50 per cent chance of pulling it off. I had a gigantic blister on my toe after only two days, and wet weather and exhaustion on day six brought me to the point of tears and really questioning what I was doing."
Matt, who took up amateur filmmaking as a teenager 15 years ago, came up with the idea of the solo challenge at the start of the Covid lockdown when travel was restricted and many endurance races were postponed. His previous films have covered his adventures in New Zealand, and he's inspired to take his camera on future trips throughout the UK.
Along with setting a fastest known time Matt, a mechanical engineer at Scottish Water, aimed to raise £1 for every 1km he covered for WaterAid Scotland. He raised almost £5,000 to help the organisation which provides safe water facilities in some of the poorest areas in the world and is the official charity of Scottish Water.
The film captures times when Matt drank from streams in the remotest parts of Scotland, and how thankful he was to have access to fresh, clean water en route.
Dusk till Dawn was also shown at the Fort William Mountain Film Festival last month and will be included in the worldwide RunNation Film Festival with live screenings set for tour dates in Australia.
Matt's award-winning film has also been praised by renowned mountaineer Cameron McNeish, who put the Scottish National Trail together by linking lots of trails and byways into one long trail that ran the length of Scotland.
He said: "To walk the Scottish National Trail in two weeks is a phenomenal achievement and to film himself enroute makes Matt's performance even more incredible.
"I'm so glad he took the trouble to make the film because it comes across as a truly inspirational journey on so many different levels: Matt's record-breaking hike, the glories of the Scottish countryside and the amazingly diverse landscapes, and weather, that Scotland has to offer.
"Thank you Matt, you've showcased the Scottish National Trail in a way that will, I have no doubt, inspire many, many others."
What now for Matt? His next challenge will see him attempt the Montane Summer Spine Race, a 268-mile race along the Pennine Way in four to six days later this month.
Matt said; "It's a huge challenge but I've been training hard and am now even fitter than I was when I did the Scottish National Trail. I recently ran the West Highland Way (96 miles) solo in under 24 hours as a training run, so I'm feeling optimistic. I'm lucky to have supportive colleagues at Scottish Water and a flexible work environment so I can fit my challenges in."
You can watch Matt's film here: Dawn Till Dusk