Investment Boost for Northernmost Water Supply
28 June 2021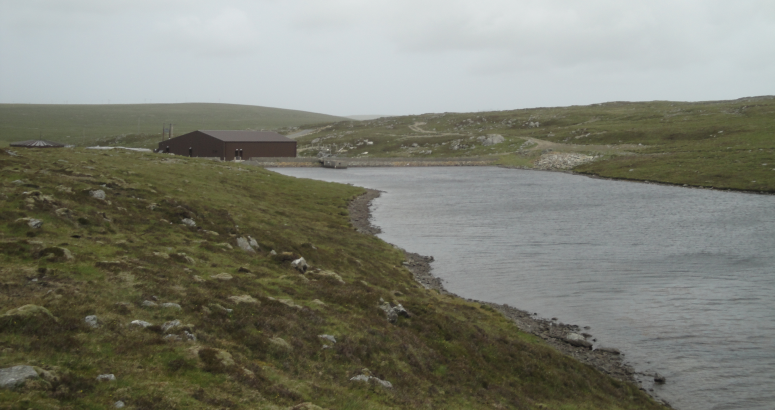 Taking care of Unst's drinking water
An £800,000 project has been delivered to upgrade Unst WTW, which is supplied from Helliers Water 
Scottish Water has completed an £800,000 project to upgrade the Water Treatment Works (WTW) that serves customers in Unst, the northernmost island community in Shetland.

The investment involved design, manufacture and installation of an innovative water treatment solution, incorporating chloramination - a process that has been widely established across other parts of Shetland, Scotland and the wider UK as a reliable and effective way of providing safe drinking water. Water treatment using chloramination is longer-lasting than using chlorine, removing the potential need for additional treatment within the water network and reducing the chance of customers experiencing a chlorine taste or odour from water at their taps.

The work was delivered by Scottish Water's in-house capital project delivery team, working with lead contractor RSE (Ross-shire Engineering).

Scottish Water's Project Manager, Raymond Aitken, said: "The investment we have made is vital for ensuring that we can continue to provide our customers in Unst with a reliable supply of clear, fresh and high quality drinking water for many years to come.

"After a period when work had to stop last year during the first lockdown, we had to think differently to ensure the plant could be commissioned and start to serve the community, while also keeping our team and island residents safe.

"It was great to see how our own people and RSE came together to ensure that the project, which was already well advanced, could be carried over the finishing line while working with strict and initially unfamiliar measures in place. Although the final commissioning and training was a little different to normal, it all went very smoothly, and I'm really pleased that the upgraded treatment works is now up and running. We are grateful for the local community's patience, especially in the important final stages over the last few months."

Robert Farquhar of RSE added: "It was very important to get the new chloramination plant at Unst WTW into service, but we had to do that in a way that kept our staff, Scottish Water's team and the wider community safe during a very difficult period for everyone. We're very pleased to have been able to play our part in delivering this important work for the island and appreciate the support and understanding we've had from local businesses and residents throughout."

The Unst public water supply is drawn from Helliers Water, located directly next to the island's water treatment works. During the summer months, when Helliers Water level falls, the supply can be supplemented by pumping works from the nearby Loch of Watlee.