Top up taps reach magical milestone
15 July 2021
"Carrying a refillable water bottle is a small change we can all make to stay hydrated and play our part in looking after special places like Glenfinnan, as well as protecting the planet from plastic waste."

Kate Forbes
Local MSP 
A growing network of top up taps across Scotland has saved the equivalent of half a million plastic bottles.
The milestone figure was announced by Scottish Water as local MSP and Cabinet Secretary for Finance and Economy Kate Forbes helped launch its 50th water refill tap at one of Scotland's most magical locations, Glenfinnan.
The blue top up taps are being used by people across Scotland to help them stay hydrated on the go - saving them money as well as being kinder to the environment by reducing litter and waste.
More than 187,000 litres of water have been dispensed from the taps across Scotland into refillable bottles. It adds up to the same as 500,000 330ml plastic bottles.
The latest top up tap is located at the National Trust for Scotland's Glenfinnan Visitor Centre which welcomes around 500,000 people in a typical year. This is the first refill partnership between the two organisations.
The NTS cares for the Jacobite memorial, Glenfinnan Monument, which stands tall on the shores of Loch Shiel. Glenfinnan has now become world-renowned as a location for the Harry Potter films. Tourists flock to see the Jacobite Steam Train replicate the Hogwarts Express as it crosses the 21-arched Glenfinnan Viaduct.
Speaking at the launch Scottish Water Chief Executive, Douglas Millican, said "We thank everyone for supporting our taps and helping reach this milestone of half a million plastic bottles saved.
"It is an exciting moment for us to see our 50th tap start flowing here at Glenfinnan amidst the spectacular landscape at the head of Loch Shiel.
"We launched these taps to make it easier to top up with fresh drinking water on the go and encourage people to stay hydrated, save money and help protect the planet. And that is what has happened.
"We've had incredible feedback from people thanking us for installing taps where they live or places they visit with many saying it prompted them to start carrying a refill bottle.
"We now have a growing network of refill taps the length and breadth of Scotland issuing free, tasty tap water at the push of a button with plans for many more to help the growing thirst for sustainability to continue."
He was joined by local MSP Miss Forbes at the launch, where members of Glenfinnan Ceilidh Band played some traditional Scottish tunes to mark the milestone. The date for launch coincided with Plastic Free July, a global movement to promote the reduction in single-use plastics.
Miss Forbes said it was "great" Scottish Water was "making it even easier" for people to carry a refillable water bottle and enjoy our drinking water when they are out and about.
The MSP said: "In Glenfinnan they couldn't have found a more spectacular setting to install the 50th Top up Tap, working in partnership with the NTS. Local residents and the NTS have worked closely together to respond to the site's huge growth in popularity in recent years. The Top up Tap is a great addition to the recently improved infrastructure and I'm confident it will be very well used.
"The growing network of Top up Taps have already saved the equivalent of half a million single use plastic bottles. Carrying a refillable water bottle is a small change we can all make to stay hydrated and play our part in looking after special places like Glenfinnan, as well as protecting the planet from plastic waste. Having previously led a campaign to ban single-use plastic straws in Scotland I understand how important that is."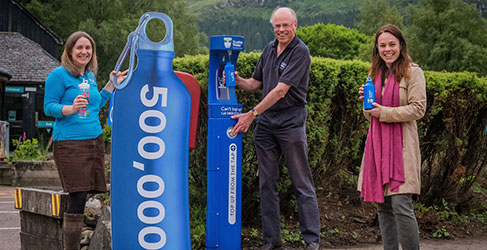 Celebrating saving the equivalent of 500,000 single use plastic bottles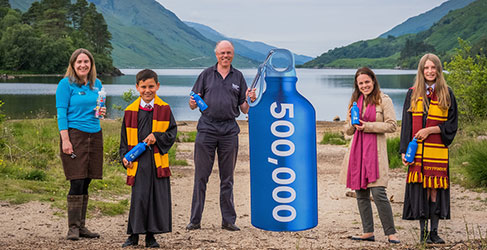 A spectacular setting for the launch of our 50th tap
Emily Bryce, NTS Operations manager at the historic site, "We're delighted to host a top-up tap and to be able to offer our visitors fantastic, fresh, Scottish water all year round. As a conservation charity we are keen to reduce our environmental footprint and give our visitors the opportunity to do the same. This top-up tap complements this perfectly, alongside solar panels heating the water in our visitor centre, compostable cutlery and cups in our café, and incentives for those arriving by public transport."
Harry Potter fans Amy, 11, and seven-year-old Ross McCreadie were among the first people to try out the new tap at Glenfinnan. The siblings had travelled up from Motherwell for a holiday specially to see where their favourite wizard had been.
Amy said: "We love the Harry Potter books and films and know how special this place is. Having this tap here makes it even more magical because you get lovely, free water and it saves us Muggles having to search about to find somewhere to get a drink. It also gives us an excuse to use your Harry Potter refill bottle which helps save the environment."
And ceilidh band member Iain MacMaster, who lives locally, said: "We are delighted to be welcoming the Top Up Ta' to Glenfinnan. We consider ourselves very fortunate to stay in such a stunning part of Scotland and an environmentally-friendly initiative like this will help keep it that way.'
The first tap was installed outside the Scottish Parliament in November 2018 and since then they have been turned on in a range of venues from Shetland to the Scottish Borders. They are part of Scottish Water's Your Water Your Life campaign to encourage people to top up from the tap to their health and their pocket.
The publicly-owned water company now has taps at a wide range sites in every Scottish council area including harbours, high streets, beaches, national parks and botanical gardens. Among the most popular are refill points in Glasgow Botanic Gardens, Portobello in Edinburgh, Falkirk's Callendar Park, Calderglen Country Park in South Lanarkshire.
The taps, which are maintained weekly, are plumbed directly into the public water supply and each has digital tracking technology which logs how much water is being used and how much plastic potentially saved.
A wide range of teams at Scottish Water are involved in the planning and installing of every tap including asset planners, samplers, public health specialists, risk technicians and water operations as well as a range of partners to help install and maintain them all. Owners of the land where the taps are located also have to give planning consent for every tap. The majority of the sites, to date, are owned by local councils.
More information about our Your Water Your Life campaign at: Your Water Your Life