Sandy Clocks Up 43 Years of Public Service
03 August 2021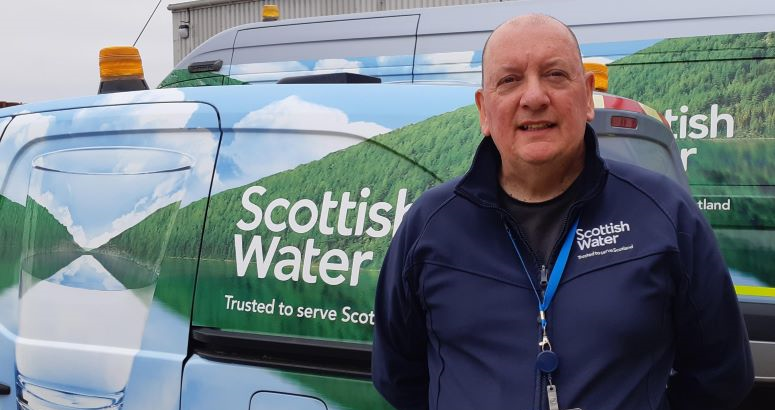 Sandy bows out after four decades of public service
He said it had been a "privilege" to serve the people of Caithness and North Sutherland in the role.
Sandy Reid, a multi-functional team leader based in Wick, has retired after 43 years of public service in Caithness.

Sandy (60) started work in 1978 at the age of 17 in the Architect's Department of Caithness District Council and then Highland Region Assessors before taking the opportunity to move into the water sector as a draughtsman in 1983 with Highland Regional Council, still based in Wick.
There Sandy put his technical drawing skills to good use, painstakingly updating plans by hand, showing where new water and sewerage infrastructure was being built while also completing his HNC in Civil Engineering at Inverness College.

Over the years, he went on to hold various operational roles in the water and sewerage department of Highland Regional Council, North of Scotland Water Authority and Scottish Water before becoming a multifunctional team leader where he oversees a team responding to customer issues such as burst pipes and blocked drains.

Looking back over his career, Sandy said:

"Meeting people has definitely been my favourite part of the job over the years. I've met some fantastic people through work. I'm lucky enough to have had opportunities to meet colleagues from right across Scotland who work in different parts of the business and feel like I've always learnt a lot from that.

"It's something I've really missed over the past year due to Covid. People either make a job fantastic or they can make it not so good and I've been really fortunate in that regard.

"The customers as well, it is really rewarding when the team gets a high score and positive comments via our customer experience process from a customer who has received good service, that's always motivational to receive that feedback. It has been a very rewarding career."

He added: "Sometimes you look back, and it just doesn't seem that long ago. It goes by fast. One of the biggest changes I've seen over the years has been the introduction of IT. The first computer I remember us getting in the office was at the end of the '80s probably and it was used for raising notices for enabling roadworks. Gradually everything has become digitised."

One of the more challenging aspects of the job has been the distances involved in responding to call outs, Sandy said, especially in winter.

"You can leave Wick and the weather is fine, but 100 miles away on the west coast it can be an entirely different story," he said. "We cover such a wide geographical area, right over to the west including Scourie, Kinlochbervie and the whole of the north coast, so if we get a call to attend a burst pipe out there then it can take us a while to get to it."

Sandy, who is now looking forward to having more time to indulge his passions of local history, reading and traditional music, said:
"I'll need at least a couple of months just to adjust and get my head around not being at Scottish Water but there's plenty to keep me busy.

"It has been a privilege to serve the people of Caithness and North Sutherland. That's what the job has been about at the end of the day - keeping customers in water and making sure their sewers are running."

Garry Kirkwood, Customer Response Manager for Sewer Response at Scottish Water and one of Sandy's colleagues, said:

"Sandy has been regarded as an extremely safe pair of hands - very conscientious, calm under pressure and a great ambassador for the customer as well as being reliable for always getting the job done. His team has always featured amongst the highest performing areas for customer experience.

"Sandy has been a great colleague and friend to a number of Scottish water staff over the years and will be greatly missed in the workplace. We wish him all the very best for a long and happy retirement."