Daredevil Mechelle's Sky Fall Brings Water to Malawi
05 August 2021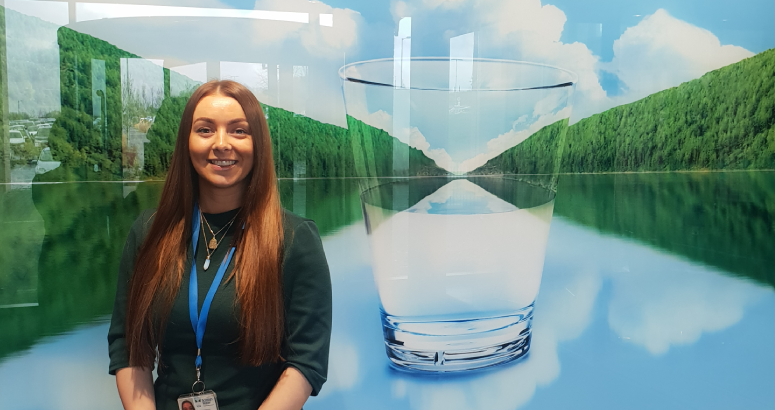 Daredevil Scottish Water Worker
Mechelle Barbour raises funds for WaterAid
A daredevil Scottish Water worker is taking to the skies to support communities in Malawi in need of clean water, decent toilets and good hygiene.

Mechelle Barbour, who works in Scottish Water's People Directorate, will parachute for WaterAid on Sunday August 29, at Strathallan Airfield, Perthshire.

It's the charity's 40th anniversary year – and although it will be the first time Mechelle has ever completed a jump, she admits the thought of helping those in need of water during a pandemic is spurring her on.

Mechelle, from Airdrie, and who is based at Scottish Water's office near Stepps, has already proven to be a WaterAid fund-raiser during lockdown, after she organised friends, colleagues and family to complete consecutive 5kms over 5 days.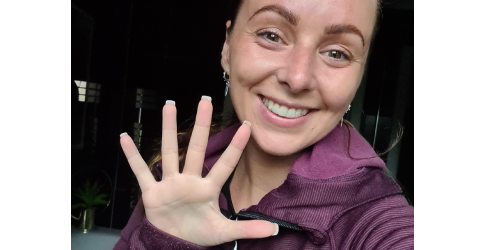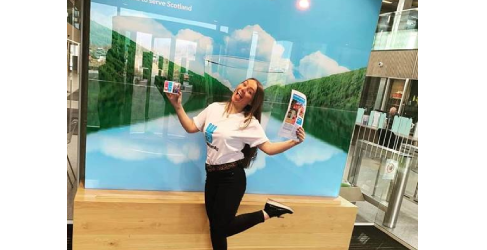 "I want to encourage my Scottish Water colleagues and friends and family to help those in need and do something amazing for charity."

Mechelle Barbour
Business Support Team Coach, Scottish Water
She said: "I want to inspire others to go for it, do what they love or want to achieve - do something that makes you scared or takes you out your comfort zone. I want to encourage my Scottish Water colleagues and friends and family to help those in need and do something amazing for charity.
"I am jumping for water on August 29 and I'm so excited. Such a great cause and I'm achieving an activity that's way out my comfort zone.
"WaterAid really does essential work for people to live a healthier and safer life. It's lifechanging for people and communities. Water is one of life's essentials that we often take for granted and that really does bring it in to perspective - by helping support communities in need, families and children, who desperately need safe water, toilet facilities and good hygiene.
"During lockdown, I managed to get a group of colleagues, family and friends to complete 5k for 5 days in my local community and we all donated £5 on the Friday when we completed our challenge. This reached out to more people and created an impactful awareness for Water Aid and the work they do. This charity activity was throughout the lockdown last year and my aim was to get people moving and exercising through this tough time for all. I then went on to organise a charity giveaway with local businesses."
Mechelle joined Scottish Water four years ago and has worked in the Learning and Development team as a People Consultant and recently became Career Transition Programme Coach.
WaterAid is marking its 40th anniversary this year and Scottish Water employees raise funds year-round to support projects in Malawi, to reach villages, schools and hospitals including maternity units with clean water. The projects also support the provision of decent toilets and good hygiene practices to ensure long-term health and prevent the spread of disease.
Elizabeth McKernan, WaterAid's Partnership Manager, Scotland and Northern Ireland, said: "Over the past 40 years, WaterAid has been making change happen on a global scale, and we simply could not do it alone. Since our foundation, our partners in Scotland and across the water sector have been providing vital funding and valuable expertise for our work around the world, and they remain at the heart of what we do.
"Now more than ever, we need to continue our life-changing work and do everything we can to make clean water, decent toilets and good hygiene a normal part of everyday life for everyone, everywhere. This is the year we must make change. In 2021, we're tackling the double threat of COVID-19 and climate change to make sure that millions more around the world can rely on clean water, today and every day.
"We would like to thank Mechelle for taking on this amazing feat and for raising vital funds to support our work in Malawi. With support from the Scottish Government's International Development Fund and amazing fundraisers like Mechelle we will be able to reach even more people with clean water and decent sanitation through our Deliver Life Malawi project."