Scottish Water Providing Support to 'Aires' Landowners
18 August 2021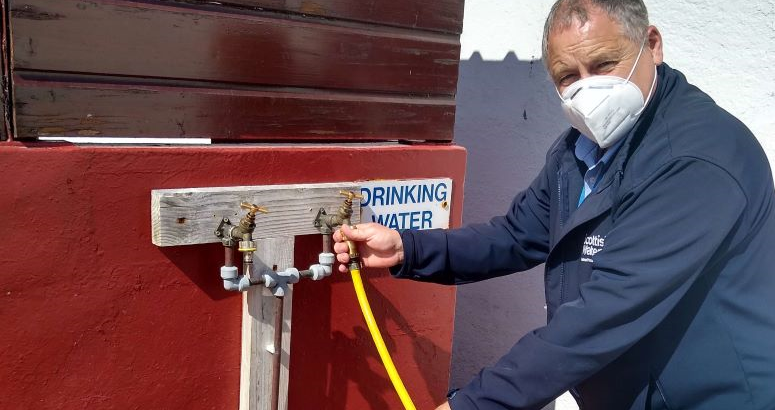 Motorhome stopover sites
The Byelaws Compliance team has been out on the road giving support and advice to landowners on how to safely provide water facilities
Scottish Water is helping support the growing network of motorhome stopover sites being set up around the Highlands by providing guidance to landowners around water supply facilities.

With new sites - or 'aires'- being set up across the Highland Council region due to a temporary relaxation in licensing regulations, particularly along the route of the North Coast 500, the Byelaws Compliance team has been engaging with site owners to offer advice on how to safely provide water facilities for visitors.
More than 77 sites have been identified so far and the team is encouraging any other landowners who have set up sites to get in touch for advice on how to ensure they are compliant.
Craig Mcdonald, industrial byelaws team leader, said: "With the boom in tourism to the Highlands, we are seeing a lot of these stopover sites being set up to accommodate the number of visitors.
"We wanted to do something proactive to help landowners get everything in place to be able to safely supply water, which is why we have been out and about engaging with people across the region.
"It may not be quite as simple as people expect so we are happy to provide advice on the different options that are available and have extended the time allowed for people to make their sites compliant until the end of the year."
Byelaws compliance office Kenny Grieve hit the road himself to speak to site owners, travelling around 2400 miles over a three week period.

He said: "It's definitely been a positive thing to do and most of the people I've met have been receptive to engaging with us about the issues involved.
"For us, there is a risk of contamination if people try to connect to the drinking water network incorrectly which is why we want to limit any potential for that to happen.
"At sites which are not currently compliant, I can very quickly install something called a tap check device which provides a good level of protection against any contamination risk to the water network while we work with landowners to install a more permanent solution."
If you would like advice on providing water facilities for a motorhome stopover site, then you can contact the Scottish Water byelaws team at byelaws@scottishwater.co.uk.
Last year, Scottish Water also published a guidance document in partnership with the Highland Council and the Scottish Environment Protection Agency providing advice for developers of new campervan waste disposal points, which includes information about waste water drainage options.
Scottish Water's connections team can be contacted for advice on 0800 077 8778 or by emailing help@scottishwater.co.uk