Poetry in motion as Scottish Water worker comes to the rescue
06 October 2021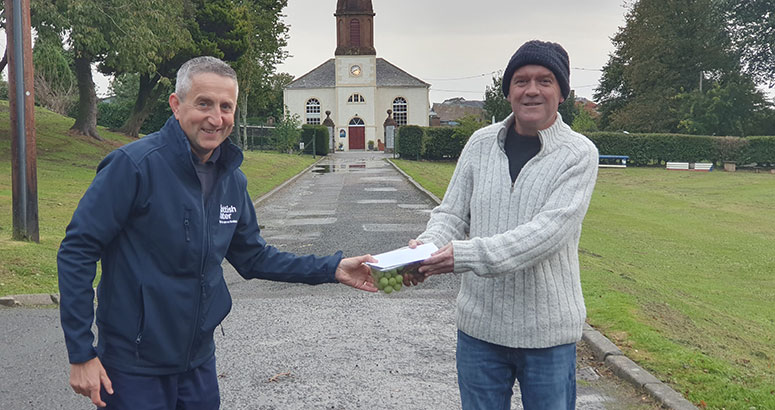 Billy to the rescue
Key Worker Billy (L) came to the aid of Poet Stuart (R) 
A poet who wrote an award-winning verse praising Scottish Water, has told how he was saved by an engineer who works for the company after he collapsed in the street.
Stuart A Paterson, from Kirkbean, Dumfries and Galloway, was walking home when he fell onto the pavement and hit his head.
Working nearby was Billy Laird, a Network Service Operator at Scottish Water, who heard what had happened and ran to see if he could help.
Billy, who is first aid trained, noticed that Stuart had a deep cut on his head and dressed the wound with a bandage from his van. He covered him with a neighbour's blanket to keep him warm and kept chatting to him while waiting for an ambulance which he had phoned.
The incident happened in the same week a poem written by Stuart on behalf of Scottish Water won a top award.
Stuart said: "I don't remember much about what happened but what I do know is that Billy is a hero. He ran to help me and did all he could to keep me comfortable."
The 55 year old spent 5 days in Dumfries & Galloway Royal Infirmary where he received several stitches on his head and underwent a series of health checks.
He said: "When I found out Billy worked for Scottish Water, I chuckled because I had just heard that my poem had won an award. I don't know what would have happened if he hadn't been there.
I hope I didn't take too much time out of his day or leave anybody without water!"
Stuart's poem, The Very Dab, was written in Scots language for a video honouring Scottish Water's staff earlier this year.
During the week Stuart was in hospital, it was announced that the poem had won Best Video/Animation at the National Institute of Internal Communications Awards.
Billy, who has worked at Scottish Water for 22 years told how he was working on call at the weekend and was attending an emergency at a customer's property at the time.
Billy, 52, from Dumfries said: "I am delighted that Stuart is back on his feet and doing so well after such a nasty fall."
This is the first time in my 22 years with the company I have had to use my first aid experience on a member of the public. When I was told it was Stuart that wrote the poem, I was surprised but also thought it was a lovely way to repay the nice words he wrote about key workers like so many of my colleagues."
After staying with Stuart for more than an hour, Billy went back to work responding to several more call outs that night.
The pair were reunited at the scene of the accident earlier this week where they shared their own accounts of what happened. Billy presented Stuart with a card wishing him a speedy recovery and gave him a punnet of grapes.