Marathon Cycle for Suicide Awareness
18 October 2021
A Scottish Water drainage engineer has told how the support and generosity of total strangers drove him on to complete a gruelling journey of more than 900 miles to raise awareness of suicide.

George Rattray (55) decided to take on the challenge of cycling from Land's End to John O'Groats after a spate of deaths among young men in his hometown of Wishaw.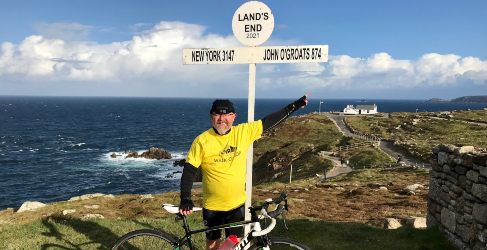 From Land's End...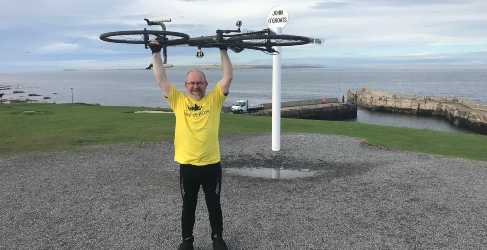 To John O'Groats...
"It is so important that people know they can talk about their feelings and that it's OK to not be OK."

George Rattray
Drainage Engineer
He said: "These were young men all around my own son's age group. I also became a grandfather a couple of years ago and I just thought I must do something to raise awareness and help break the stigma surrounding suicide.
"My own family has been affected by it – I lost two close relatives – and it has had a devastating and lifelong impact on those that are left behind.
"It is so important that people know they can talk about their feelings and that it's OK to not be OK."
A keen cyclist, George hit on the idea of the cycle journey and with help from a former colleague he meticulously planned his route averaging around 80 miles a day between campsites.
As well as raising awareness George has raised thousands of pounds for local Wishaw suicide charity Chris's House.
He said: "On just the second day we had stopped in a supermarket car park when an old lady walked up and emptied her purse into our collection bucket.
"What do you do when somebody does something like that? It is inspiring and gave me the focus and determination to go the distance."
George's best friend Stewart Docherty – who lost his father to suicide when he was aged 9 – drove every mile alongside him, offering moral support and collecting donations from well-wishers.
George said: "We are on course to reach our target of £5000 for Chris's House who carry out such amazing work and have just opened another office in Dalkeith. The charity really does help to fill a gap for support in mental health across Scotland and every penny we can raise will make a difference to somebody's life and the lives of their family and friends."
Chris's House was set up by Anne Rowan in memory of her son Chris to provide a safe environment where people can access professional support.
She said: "While our important work continues day in, day out, the last 18 months have been challenging from a fundraising perspective, with numerous fundraising events having to be sadly cancelled due to the pandemic.
"With this in mind, we're more grateful than ever for the incredible support of George and Stewart. Their help really is making all the difference."
Donations can be made via
George's JustGiving page
.