Retirement for Scottish Water Stalwart After 48 Years
09 November 2021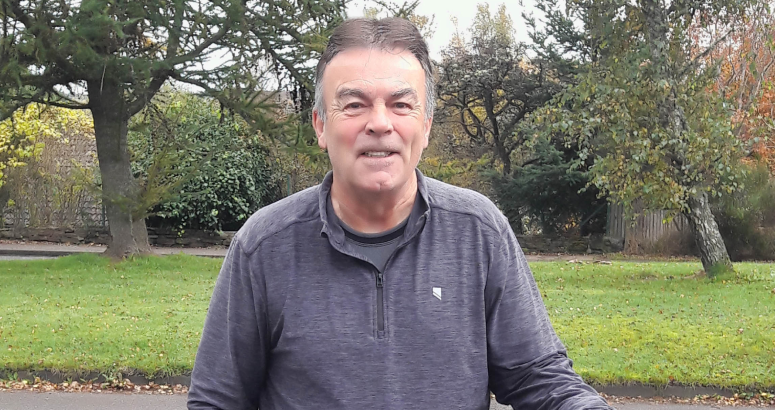 Dedication
Mikie Rae is retiring after almost five decades in the water industry.
A Scottish Water stalwart is retiring after dedicating his working career to ensuring fresh water flows from taps across the Highlands.

Mikie Rae (65) joined Ross and Cromarty Water Board in the early 70s as a water operator in Dingwall, spending 48 years in the water industry in various roles at Highland Regional Council, North of Scotland Water Authority and Scottish Water.

For the last decade, he has led a leakage team across the North focused on finding and fixing leaks in the network to make it more efficient and ensure the best service for customers.

Reflecting on how he started his career, Mikie said:

"I was waiting to start a job as a pipe fitter at Nigg when my friend who worked for Ross and Cromarty Water Board asked if I wanted a temporary job to tide me over until it started and I just never left. As time went on, I enjoyed it more and more and I started thinking that I could see myself doing this for a long time!"

Looking back at how things had changed in the industry since he started, Mikie said the rate of change in terms of technological advances that he has witnessed has been incredibly fast.

"Back when I worked for Ross and Cromarty Water Board, there was no email, no mobile phones, not even answer phones," he said.

"I have a very clear memory of driving to the depot in Tain and leaving a post-it note on the door there so that the foreman would know there was a burst pipe somewhere when he came back. Technology has accelerated at a rate that nobody foresaw back then, the innovation is incredible.

"We use a correlator to find leaks that aren't visible on the surface but are hidden underground. I used to have to tow that behind the van in a trailer and now I can carry it in the palm of my hand. It is incredible how technology has advanced and made certain tasks so much easier."

Providing a high level of customer service throughout his career has been a big motivation for Mikie.

He said:

"I hope I've made a bit of a difference. One of the things I'm proudest of during my career is seeing our team not just meeting the targets set for us by our regulator but surpassing them on a regular basis.

"Improving our service to customers is the be all and end off of what we're doing really and there have been so many nice, ordinary people over the years who are very appreciative of what we have done for them – and that's what I'll remember."

Having been working a three-day week for the past year as part of a flexible retirement scheme, Mikie says he is now looking forward to full retirement, something he never thought he would feel.

"It has really eased the transition for me," he said. "It has made me realise that there is so much I could be doing with my time. As you get older, your priorities change and your outlook on life changes."

Mikie is planning to spend more time with family, as well as hitting the local mountain bike trails, golf courses and fishing spots, and says the friendships he has made with colleagues at Scottish Water are a huge part of what has made the job so enjoyable.

Mikie added:

"It definitely doesn't feel like 48 years! It has been an amazing journey and I've loved every minute of it which I think is why it has flown by.

"I've had the pleasure of working with some amazing people who have had a really positive impact on my life in different ways and that's what I'll take away from my time at Scottish Water – the friendships I've made with these people is something that will last my lifetime."

National water operations manager for Scottish Water, Kes Juskowiak, paid tribute to the contribution Mikie has made to the organisation over the years and said:

"While I've only known Mikie for 11 of the 48 years he has worked in the water industry, I learnt a lot from him on the networks in the area and management of leakage within rural systems.

"The way Mikie did his job is every bit as important as his knowledge. He has always been willing to help, has always talked his mind and has always been keen to make things better for his team and our customers.

"I have no doubt that all those who have worked with him have benefitted - and our customers across the north are better served as a result of his input. We wish him a happy and very well-deserved retirement."