Strathaven's Kenny celebrates retirement after four decades at Scottish Water
13 January 2022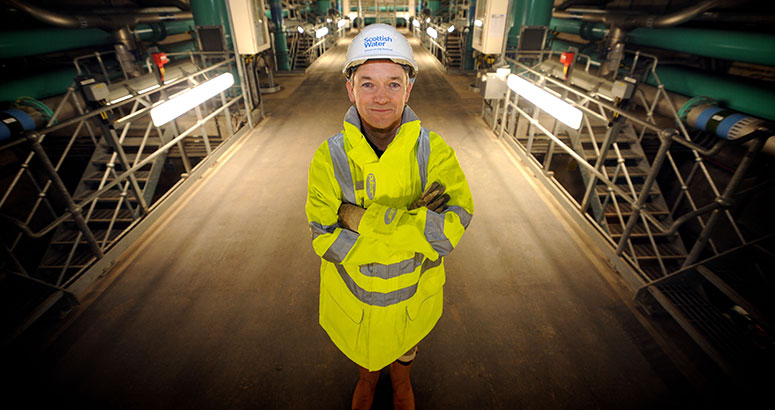 Kenny Naylor
Kenny at Glencorse Water Treatment Works, the construction for which he was the Senior Project Manager
Senior project manager and Strathaven local, Kenny Naylor, is celebrating his retirement from Scottish Water after 40 years of helping to transform Scotland's water and waste water services.
Kenny first joined the Department of Sewage at Strathclyde Regional Council in August 1980 after studying Civil Engineering at Strathclyde University and his involvement in the construction of Stonehouse Sewage Treatment Works as a contractor.
In those early days with Strathclyde Regional Council he achieved his Civil Engineering chartership. Since then, he has seen a career that helped clean up the River Clyde, delivered new water treatment works for Glasgow and Edinburgh, pioneered the use of innovative technologies to treat waste and reduce carbon, and even met the Queen at the opening of Milngavie Water Treatment Works in 2008.
Providing excellent customer service has been a key part of Kenny's career and is just one area where he has excelled over the years. He said: "When I started at the Regional Council, we had no real concept of what a customer was. We would pitch up on site for massive projects with no notice or discussion and get to work.
"During my time with Scottish Water, I have been part of many teams that have transformed the way we inform and involve customers and communities in the delivery of projects."
He reflected on this when speaking about his time as senior project manager for the construction of Glencourse Water Treatment Works, which supplies the majority of Edinburgh, saying: "We carried out a huge consultation, and worked closely with landowners, neighbours and stakeholders to ensure we were leaving the best possible legacy. This approach led to the team collecting national awards recognising the delivery of civil engineering & customer service excellence."
Scottish Water employs over 4000 staff and Kenny has used this as an opportunity to work in a wide range of roles. He has been a civil engineer, designing new infrastructure; a public affairs manager, working closely with MSPs and policymakers in Holyrood; and a consultant, providing guidance to utilities across the globe. Kenny continued: "I have been really fortunate to be able to work in so many different roles. When people think of Scottish Water, they don't immediately think of world travel but, as an industry leader, we have been able to advise and support utilities in countries around the world.
Change has been one of the few constants during Kenny's career and one which he has embraced wholeheartedly. He said: "I have seen the water sector in Scotland transform over the past 40 years. It is funny to think that during my early career I was focused on bringing Scottish Water's sites into the 20th Century, and now at the end of my career, we are bringing these same sites into the 21st Century, using cutting- edge, low carbon technologies."
Despite his retirement, Kenny isn't ready to hang up his hi-vis and hardhat just yet. He commented: "I may be retiring from Scottish Water but I plan to continue to share my expertise with others at home and abroad, enabling them to adopt practices and technologies which could help drive carbon emissions down globally."
Outside of work, Kenny will continue as a musician at his local church, carry on as a trustee of a local care home and, once the winter has receded, be out on the road bike cycling around Scotland's countryside.