Scottish Water Plans Leadership Transition
24 January 2022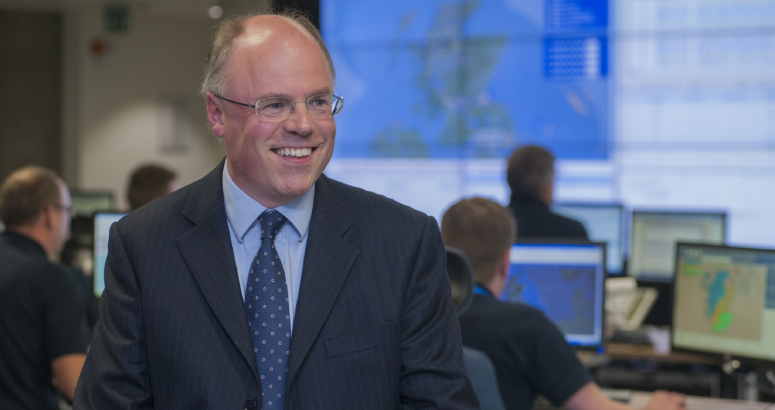 Leadership Transition
Pictured: Douglas Millican
"It's an immense privilege to lead Scottish Water, playing a key role for 20 years in the transformation of an organisation that is vital to the health and wellbeing of people, communities, business and the environment across Scotland.
"

Douglas Millican
Chief Executive
Douglas Millican is to step down as Scottish Water's Chief Executive next year, after 10 years in the role and 20 years on its board and executive leadership team.

Mr Millican will continue to lead the publicly owned organisation while his successor is appointed and to enable a smooth transition to a new CEO.

Since 2012 he has led Scottish Water as it became one of the highest performing water and waste water companies in the UK, with sector-leading levels of customer service and sustained improvements in drinking water quality, efficiency and environmental performance.

The organisation employs over 4,000 people and is one of Scotland biggest infrastructure investors, investing more than £700M annually on water and waste water services.

Mr Millican was previously Scottish Water's Finance and Regulation Director and has worked in the water sector in Scotland for 25 years.

Mr Millican said: "It's an immense privilege to lead Scottish Water, playing a key role for 20 years in the transformation of an organisation that is vital to the health and wellbeing of people, communities, business and the environment across Scotland.

"I am proud of all that we have achieved and the consistent recognition in recent years of our leading levels of performance.

"I am very grateful for the dedicated commitment of our people across Scotland who have continued to deliver exceptional service throughout the pandemic and under frequently challenging weather conditions".

He added: "After careful consideration, I have decided to announce my intention to step-down so that a new Chief Executive can be appointed who will lead Scottish Water through the extensive preparation needed for the next regulatory period starting in 2027.

"Over the next year, my priority is to lead Scottish Water well, serving our customers while transforming again to meet our future challenges.

"I look forward to working with the board and executive leadership team to achieve this and ensure, in due course, a smooth transition to my successor."

Scottish Water Chair, Dame Susan Rice said: "Douglas has steered the organisation at a time of greater change and challenge than normal. Scottish Water emerges as an even stronger, more cohesive business, serving its employees, its customers and indeed all people in Scotland at a very high standard.

"An orderly approach to succession is also the hallmark of a well-run business. There will be opportunities over the next year to celebrate Douglas' significant contribution and success; meanwhile, the Board joins me in expressing our gratitude to Douglas for what he has achieved, knowing also that he will continue for now to lead the organisation at pace and with acumen".

Scottish Water will commence an internal and external search for a new Chief Executive shortly.
Achievements
During Douglas Millican's period of leadership at Scottish Water, some of the most significant achievements have been:
Best customer satisfaction in utility sector in 2021 UK Customer Satisfaction Index.
Ninth placed UK company for customer satisfaction in 2021 UK Customer Satisfaction Index.
Helping to safeguard public health through the global pandemic
Delivering and sustaining high quality drinking water.
Protecting the environment with commitment to invest £500m further improving waste water systems.
Deliver value for money service to customers – outperforming successive regulatory settlements.
Investment of over £6bn in capital projects across Scotland.
Reducing leakage in network by more than 50%.
Publication of 25 year strategic plan - Our Future Together
Net Zero Emissions Routemap and commitment to go beyond Net Zero by 2040.