Scottish Water returning to normal operation following Storms Malik and Corrie
01 February 2022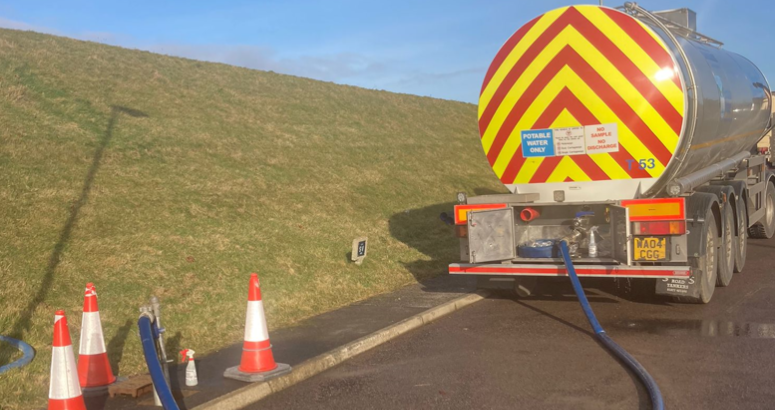 Supporting supply restoration
A fleet of road tankers operated across affected rural communities to maintain service and support supply restoration
"We are hugely grateful to our emergency response partners for their assistance in all our work, but even more so to customers for their patience and support in very difficult circumstances"

Kes Juskowiak
Water Operations General Manager
Scottish Water is returning to normal operation following the restoration of water supplies that were affected by the impact of Storms Malik and Corrie.
A fleet of 17 road tankers has been operating around the clock in recent days to maintain supplies to customers and support the recovery of water networks which had been disrupted following the loss of mains power to multiple Scottish Water sites, with the greatest impacts in localised areas of the rural north-east and Tayside.
At the peak of the publicly-owned water company's response, 70 generators were in use to provide temporary power to sites that provide drinking water for over 1 million customers. Scottish Water is continuing to liaise with Scottish and Southern Electricity Networks about the restoration of mains power at a small number of rural pumping stations. Local teams are responding to any very localised service issues as they are reported.
Kes Juskowiak, Water Operations General Manager at Scottish Water, said: "Our teams across Scotland have been working hard since the end of last week to prepare for and then respond quickly to the impacts of these two successive extreme weather events.
"We know how vital water is for our customers – even more so when some are faced with significant disruption to power supplies, the road network and telecommunications at the same time. Our primary goal was to maintain supplies wherever possible by preparing well and responding quickly as soon as it was safe to do so.
"For a small number of rural communities in the north-east and Tayside, we regret that we were unable to prevent a period of disruption and our focus was then on restoring service as quickly as possible, while offering support to the affected customers. We are hugely grateful to our emergency response partners for their assistance in all our work, but even more so to customers for their patience and support in very difficult circumstances.
"We will continue to monitor affected water networks over the coming days until they have fully recovered - and until mains power is restored to the small number of sites which continue to rely on generators."
As part of its support for customers whose water supply was interrupted following the storms, Scottish Water teams distributed 40 pallets of bottled water to the rural communities affected, equivalent to 38,400 litres of water, and provided direct doorstep deliveries to 380 homes.
Customers who have experienced disruption following the storms may experience low or intermittent water pressure, or discoloured water, for a short period after their water supply returns. They are advised to run their cold kitchen tap at half pressure until the water runs clear.
Any remaining customers who have not seen normal supply return overnight are asked to phone Scottish Water on 0800 077 8778 as soon as possible so this can be investigated.
Over the period of the storms, Scottish Water used its Priority Service Register to make contact with customers who may need extra support when they experience disruption to their water supply, for example due to a medical condition or disability. More information about the Priority Service Register and how to join is available at https://psrscotland.com or by calling Scottish Water on 0800 077 8778.