Green Graduate Case Studies
08 February 2022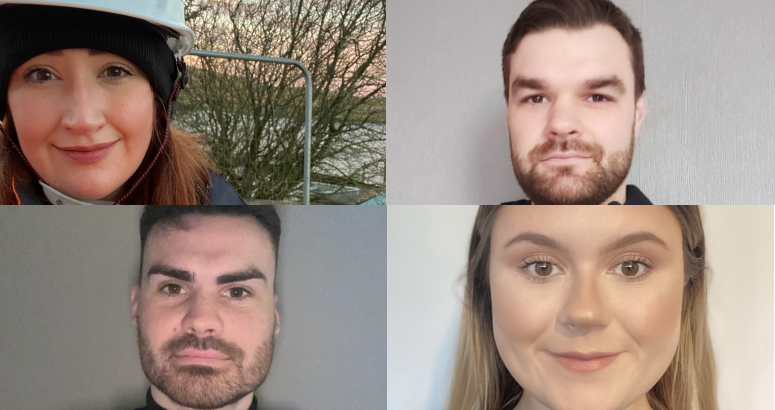 Meet our graduates
Pictured: Top left - Emma Philbin, Top right - Nicol Ferguson, Bottom left - Ian McShane & Bottom right - Freya Chapman
Emma Philbin, 31, Cumbernauld
Trainee Civil Engineer - Morrison Construction
Studied National Certificate in Civil Engineering at Forth Valley College
Emma said: "I left school thinking I wanted to work in the arts and then went on to work in oil and gas and then retail management – but I knew it was not for me. It was after I went to a career open day and learned about civil engineering that I took this career path and I love it.
"I work in the water division and find it very interesting and rewarding. When some people think of civil engineers they think of buildings and building up the way and things you see, but there is so much under the ground vital to our lives.
"I have worked on the news wate water treatment work project in Winchburgh which was fascinating. All the planning and preparation that goes into the project is so important and then there is the environmental aspect, ensuring we are using the most appropriate methods and products to be as green as possible.
"It's a great feeling to be part of something that is helping people or communities, even the country, to thrive. And it has been great working alongside people who have worked in the water industry for years and to learn from them but also to educate them about new, often greener, methods of working.
"Being a woman too in what is often regarded as a man's role also gives me a sense of pride, I don't want young people to think this job is for a man and this a woman, there is no such thing anymore."
Nicol Ferguson, 29, Lochgilphead
Graduate Specialist Services Department – Ecology

Studied Marine Biology at Heriot-Watt and a research masters at Scottish Association for Marine Sconce at University of Highlands and Islands

Nicol said: "After finishing university my wife noticed Scottish Water was looking for graduates and saw a role that suited me. I was delighted to be taken on. I have been in the role for four months and love the variety and the fact the work is Scotland-wide.

"I visit sites where Scottish Water is going to carry out work, such as replacing or laying new pipes or building a new works, to assess where work will take place check on the natural environment there, animals and plants. I report on any protected species or non-native evasive species in the area and work is planned so as not to disrupt their habitats. To date I have seen badgers, otters, pine martens and quite a few birds' nests.

"I love the 'boots on the ground' nature of my work, the fact I get out to so many different places. We all use water daily and it is only now that I think about how it gets to our taps – how it can come from many, many miles away via a network of pipes and other equipment.

"Although my degree is in marine biology, and more linked to the sea, I am following the dream I was leaving school that I got involved in ecology Nature has always interested me and feel this I definitely the right job for me and hopefully I will make a long career in this.

"A few years ago I'd never thought of Scottish Water as somewhere I'd work, but now I am here I thoroughly enjoy it. Colleagues are positive and know the importance of their work. I am also impressed with the organisation's plans for net zero. The environment is very much the key issue of the moment and has been for a while and will continue to be so as it is so important we look at what we do and how we can protect it.

"I know Scottish Water is trying its hardest to make real changes and look for innovative ways to be greener. Being such a huge organisation its work is sure is to make a real difference and that makes me glad to work here."
Ian McShane, 29, Motherwell
Trainee Quantity Surveyor - Morrison Construction

Studying MA in Quantity Surveying at Glasgow Caledonian University (used to be a professional football player for various Scottish teams)

Ian said: "I played football professionally for many years, but the time had come for me to do something else. I always liked maths at school and wanted a job where I would use my brain rather than something physical. I have started as a trainee quantity surveyor and really like it. It is very different for me.

"I was really happy when I found out I'd be working on Scottish Water projects up and down the country. I have been doing some work as part of a waste water project in Arbroath. I know Scottish Water has big plans for the coming years and it is great being part of how it is transforming to become greener.

"More and more we hear about climate change and the impact it is having, we don't have time to wait and need to do all we can as quickly as we can. So, when I learned about Scottish Water's commitments to become net zero, I was glad to be part of that.

"I know I am very lucky to get trained on the job and get to study for a qualification at the same time. It means me and other people on the scheme can bring the newest learning to their jobs. And for me it is one that I hope will for a good few decades to come."
Freya Chapman, 26, Edinburgh
Graduate Quantity Surveyor - Morrison Construction

Studied MA in Commercial Management and Quantity Surveying at Heriot-Watt University

Freya said: "One of the reasons I applied for this graduate scheme was knowing how important the work that be caried out actually is. It sounds dramatic but water is a key to all our lives and is needed by us all to function day to day and yet it's something we never really think about.

"I was also impressed by the green targets Scottish Water has set and will work towards and am really excited to be a small part of that. I have been taught about climate change for as long as I remember and how we all have a part to play in tackling it. So, knowing the work I would do will help make a difference is exciting for me.

"I have yet to find out which projects I will be working on, but it is likely to be project managing work to update or renewing assets making them more efficient and resilient.

"Big organisations have a huge part to play in tackling the issue to make real change to the future of the country and beyond. For me, I wanted to work somewhere that cares about its people and big issues, I think a lot of people my age think the same.

"I was impressed with Scottish Water's Route to Net Zero. It will make a big difference by reducing emissions and I am sure will inspire others to do their bit too. I feel very lucky to be part of the graduate scheme and am proud to be part of the journey. I am hoping Covid rules change soon so I can get out and about to more sites."