Graduates and Apprentices to Help Scotland's Drinking and Waste Water Services Go Greener
08 February 2022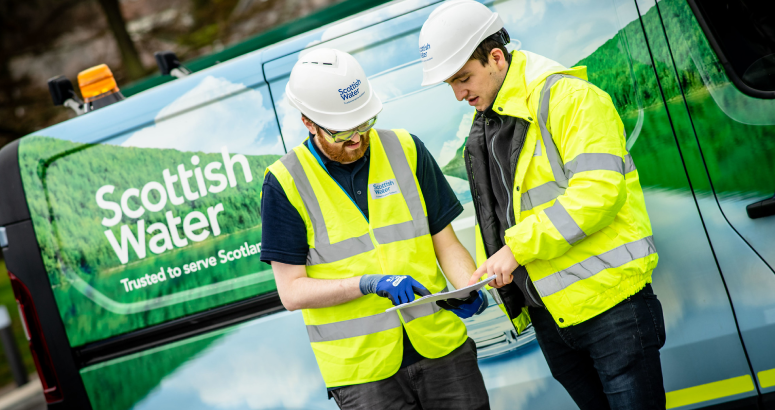 Fit for Future Generations
Helping our services go greener
"These young people will play a vital role in ensuring we deliver our ambitious plans for the next decade and beyond.
"

Mark Dickson
Director of Capital Investment, Scottish Water
More than 1,000 graduates and apprentices will help transform Scotland's drinking and waste water services making them greener and fit for future generations.

They will play a critical part in ensuring Scottish Water has access to emerging talent when it will invest £4.5 billion over a six year period on thousands of miles of vital water pipes, sewer networks, treatment works and other assets.

Most will work on STEM (science, technology, engineering, and mathematics) projects across Scotland. They will also help shape and support service excellence for the five million people the utility serves.

All the young people taken on will play a part ensuring Scottish Water delivers net zero emissions by 2040 by building network capacity to cope with changing weather patterns, deliver excellent quality drinking water, and protecting the environment.

The utility says graduates and apprentices will be "essential" between now and 2027 as it transforms its assets and the way it operates, ensuring it continues to be one of the most trusted organisations in the country.

The roles will also see the emerging talent gain on-the-job skills and help contribute to a flourishing Scotland in terms of growing a skilled future workforce.

They will be employed in Scottish Water and a number of partner organisations who will deliver one of Scotland's biggest capital investment infrastructure programmes which will enhance Scotland's water and waste water services.

Mark Dickson, Scottish Water's Director of Capital Investment, said: "These young people will play a vital role in ensuring we deliver our ambitious plans for the next decade and beyond.
"They will bring a range of skills to help us achieve the change needed on the scale and speed to meet the challenge of providing services the public expect and rely on, while also addressing the impact that a changing climate has on our natural resources and infrastructure.

"Everyone who takes part will be pivotal in helping us reach our Route to Net Zero and, hopefully, in decades to come to be experts in the water industry serving a flourishing Scotland.

"We wanted to ensure our major programme of work for the next few years had a specific focus on delivering skills and development opportunities for young people as we transform how we operate, and we look forward to working with them to help develop the essential skills for the water industry and beyond."

The new starts will help Scottish Water undertake a period of work spanning six years with an optional six-year extension. The initiative will maximise collaboration and consistency between partner organisations and to help meet net zero emissions targets, efficiency and supply chain support as and deliver service excellence for customers and communities.

Work will include , refurbishment and replacement of treatment plants and networks, covering mechanical, electrical, engineering, civil engineering, construction and maintenance services across Scotland.

Scottish Minister for Green Skills, Lorna Slater, said: "Responding to the climate emergency is a critical challenge facing our society and planet, and one that will necessitate adopting new roles and ways of working.

"We recognise the importance of a joined-up approach across all sectors of the economy to develop the upskilling and retraining opportunities required to enable people to take on new, green jobs and ensure communities across Scotland are part of a just transition to net zero emissions.

"It is great to see Scottish Water leading on this graduate and apprenticeship scheme, and working with partner companies, to prepare their workforce to seize these opportunities and further develop their skills

"I am confident that this kind of investment will help us to build and sustain our highly skilled workforce and support Scotland's climate targets."

Director of National Training Programmes at Scotland's skills agency, Skills Development Scotland said: "Providing opportunities for young people through apprenticeships and work-based learning is crucial to ensure we have the critical skills needed for the economy and to support net zero ambitions
.
"SDS is part of the Climate Emergency Skills Action Plan to support ambitions to tackle climate change, with work-based learning and apprenticeships recognised as vital to support the transition to net zero. Employers like Scottish Water see the benefits of investing in apprenticeships to develop the future workforce while supporting the next generation of talent."

The scheme was also welcomed by Grahame Barn, Chief Executive of CECA Scotland, the trade body for Scotland's civil engineering contractors and representing over 80% of the industry, said:

"The positive impact of infrastructure investment will be felt on the ground as civil engineering contractors work alongside Scottish Water to create local jobs, support businesses and nurture the next generation of talent.

"Our sector not only supports the vital infrastructure that keeps everyone connected but will also deliver the chance of a greener future by building the green skills we need to turn Scotland's climate ambition into reality.

"Over the course of the programme of work, contractors will create the opportunities for apprentices to have the best possible springboard towards a successful career in construction and make a meaningful difference in Scotland's transition to Net Zero."

The graduates and modern apprentices will come from a range of companies who work in partnership with Scottish Water including Clancy, Morrison Construction, George Leslie Ltd, RWGM joint venture, Ross-shire Engineering, WGM Engineering & Boulting Ltd joint venture and Morrison Water Services.

Scottish Water is committed to supporting the Young Person's Guarantee which seeks to ensure young people in Scotland are provided with the opportunity of an apprenticeship, fair employment - including work experience, taking part in a formal volunteering programme, training or a place at a university or college. Every year the utility takes on a number of people in a range of these roles.

The utility's own broad apprenticeship programmes typically run for four years and focus upon the integration of learning both on and off-the-job.

Mr Dickson said: "Apprenticeship programmes have high currency within our business. Some of our leaders are former apprentices and there is a great deal of value placed on building for the future through the development of young people who understand the nature of this business, who have the technical skills required to perform safely and effectively, and who understand the vital role that we play within our communities and society."

Scottish Water is a member of the Scottish Apprenticeship Advisory Board, gives employers and industry a leading role in developing apprenticeships in Scotland. It ensures apprenticeships develop to meet industry and economic need, fair work, and job opportunities.