Litter Pickers Back Wet Wipe Ban Call
24 March 2022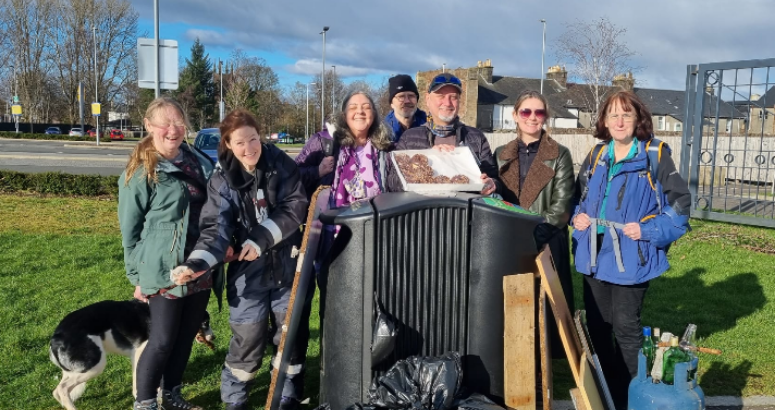 Backing the Ban
Local litter pickers in Dunbartonshire are supporting Scottish Water's call to ban wet wipes that contain plastic.
Dunbartonshire litter-pickers are the latest volunteers to publicly back Scottish Water's Nature Calls campaign – calling for a ban on wet wipes that contain plastic.
A recent clean-up following a 'choke' incident on the River Leven in Dumbarton saw nearly 800 wipes collected.
Zoe Weir from the group Friends of Dumbarton Foreshore said: "We are noticing a steady increase in the number of wet wipes on both the Clyde and Leven shores in the last four years.
"The problem lies not only with people flushing them but also manufacturers who are using materials that don't biodegrade and labelling the products as 'flushable'.
"That is why we are supporting Scottish Water's campaign to ban wipes containing plastic and reminding people to avoid flushing anything but the 3 'Ps' – pee, poo and toilet paper."
Scottish Water's new campaign Nature Calls is asking the people of Scotland to bin wipes and other bathroom detritus to protect nature.
Georgina Reid, corporate affairs manager in the west, said: "Many of these products combine with fat, oils and grease – that should also be binned and not slopped down sinks – to create blockages in sewage pipes.
"With increasing numbers of extreme weather events due to climate change, these blocked sewers cannot cope and spill into our communities, rivers and seas.
"It is not just our customers who suffer, but the environment and creatures who live in our natural world."
Cula Murphy, leader of Friends of Leven River Valley said: "The cost to both the wider environment and local wildlife is huge, but we are also covering the financial cost of clearing these chokes through our annual water charges.
"That is another reason for backing Nature Calls and a ban on wet wipes containing plastic."
Scottish Water clears around 36,000 blockages each year at a cost of £7million pounds to the publicly owned body. This uses energy, meaning more harmful carbon dioxide is released into the atmosphere.
People can back the ban by adding their name and email to the supporters list at here.